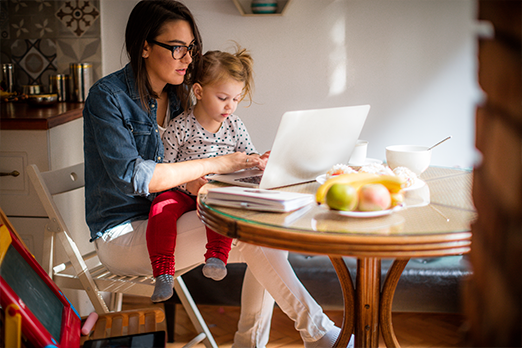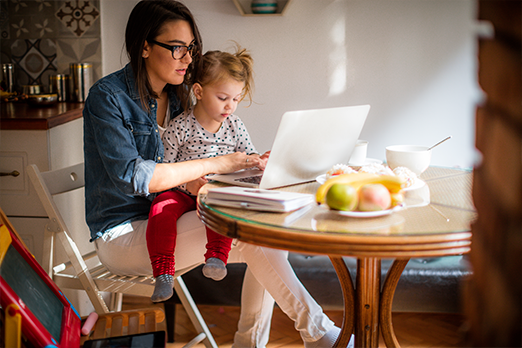 We've always been advocates of females in the work environment, and have recently spent a lot of time thinking about what that really looks like. For a lot of female workers, that definition includes being a mother. 
Today there seems to be a specific pressure for working mothers to "have it all," to seamlessly balance a job and children. We all know the perfect work/life balance doesn't exist – but what steps do you take to try and create some equalism, without allowing it to get you totally stressed out? 
With Mother's Day just around the corner, we asked three of our executives who are working mothers to share the steps they take to help them succeed at being both a mother and a career woman. Here's what they had to say. 
This November marks my 30th year with Adecco, and for 20 of those years, I was working very hard to juggle my work life and my home life, and keep all the balls in the air! Though my children are now grown, I still vividly remember the "push and pull" between my home and my office.
As working mothers, the fact is we can't always have it all. That being said, there were three things that helped me to balance my career and my family life: 1) having a solid support system, 2) staying organized, and 3) using "10-10-10" we can make the most of our time at work and at home.
I give a tremendous amount of credit to my husband for being my support system, but I also surrounded myself with talented people with great attitudes who were willing to work hard and help me get the job done.
I've also found that by staying super organized – not just in the office, but at home, too – I can make more efficient use of my time. From meal prepping on the weekends, to buying work-related cards or gifts while running personal errands, I try to strategically organize my tasks in a way that allows me to eliminate some of the stress of things I have to figure out when I arrive home from work.
Finally, one of the best books I've read is Suzy Welch's "10-10-10."  The book asks us to look at each decision in terms of what impact a decision will have on our lives 10 minutes from now, 10 months from now, and 10 years from now.  When you are uncertain or anxious about making those tough decisions about how to spend your time, "10-10-10" is a super useful tool to help you make the best decision for your work and your family.
"Work – Life balance"…  The phrase almost feels like an oxymoron.  For me, the scale usually tips one way or the other, but it's the ability to prioritize that has made the difference in my life, along with two other "p's:" people and presence.
PEOPLE: So much of our time is spent at work.  Make sure the team you surround yourself with is goal minded, success driven, family oriented and has an amazing sense of humor.  I am so fortunate that I get to go to work every day, accomplish great things and have fun while doing it.  It is this community that has helped me stay focused and engaged with not only work, but with my family too!  I am one blessed lady in that department.  With a husband who makes our home his priority and both my wonderful parents always around to lend a hand; it is easier for me to focus while doing both jobs that I love, working at Adecco and being a mom!
PRIORITIES: I realize there are 1,440 minutes to every precious day we get and I prioritize them the best I can to make the biggest impact!  But sometimes that is work and sometimes that is family.  I force myself to realize my day can never be exchanged or refunded. Knowing this, I ask-  'am I okay to make the choice I'm about to make?' There is always a clear answer to that question, and if the answer is no in hindsight, then I do everything I can to make it right.
PRESENCE:  I am incredibly fortunate to work for a wonderful boss who has taught me many lessons throughout my career, perhaps the most important being to put down my phone, email and work and focus on my family when I'm home. As a mom and an executive, I take pride in the ability to multi-task with the best of them.  And while that is important, it does not always create the quality relationships we want to have.
Work – life balance?  It's a work in progress every day but how lucky am I to say that I love the challenge of figuring it out!!
I thought I'd share with you what my eight year old son, Jackson, said when I asked him what he likes most and least about his mom working.
"Interesting question," he said, "let me think about it…"
He finally said, "Mom, you help people and I like the lady you work with..I like those things."
He also said there isn't anything he doesn't like about his mom working.
For me, that's how I manage the pulls & pressures that come with juggling personal & professional schedules. The best thing I ever did was to decide to finish calls on my cell before walking in the door at night. From the second I walk in, I'm all theirs. I toss the phone in my bag and keep my laptop tucked away, at least until everyone is asleep.
My mind is super clear when I am 100% in the present at home and at work. When I'm present I'm the best I can be. I think that's what he sees too and that's all that matters to me. Life is too short and precious to not keep priorities in check.
I'm blessed to be afforded to do both and for that, the best gift I have is to be in the moment.