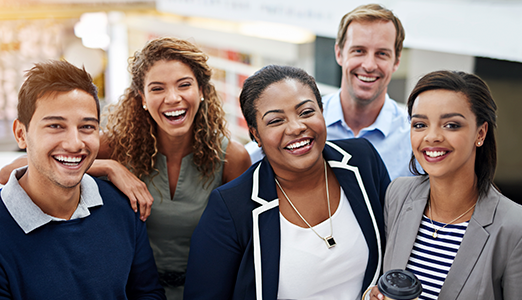 We recently surveyed over 500 people to find out who loves their job and, more importantly, why. It seems that there's a unique relationship between love and work. So how do you guarantee employees love their jobs? Well, it can start with a positive company culture.
From bring your dog to work day, to a fully stocked pantry of snacks, building a positive company culture yields benefits like retention and happy, engaged employees – who have been proven to be more results-driven than non-engaged employees. Unhappy workers are 10% less productive than other employees, while happy workers are 12% MORE productive than other employees. 
Perhaps the best part about having a positive company culture? It doesn't have to be costly. Every business is different, and only you will know how to uniquely impact your culture for the best. But here are a few ideas to get you started on creating a positive company culture – without breaking the bank.
1. Ask them. 
Before deciding on ways you could improve your company's culture, start by asking your employees what they would appreciate and actually make use of when considering their optimal company culture. A Keurig machine in the office kitchen may seem like a step in the right direction – but not if none of your employees like coffee. Do your research before taking action. 
2. Recognize minor holidays – even if you don't get the day off.
Minor holidays have become widely celebrated in pop culture again thanks to social media. From National Donut Day to Earth Day, encourage your employees to recognize the day by participating in something fun. Your gesture can be as simple as bringing in donuts for everyone, or asking everyone to wear green.
3. Get out of the office.
Whether it's a random group lunch, a walk around the office building, or a daily, designated "coffee run"  – encourage your employees to get out of the office during the workday. Feeling chained to their desks can not only decrease their chances of productivity – it can also breed resentment, one of the biggest factors in a negative work environment.
4. Celebrate your employees' life events.
Make note of employees birthdays at their start date and choose one day a month to celebrate everyone who has birthdays within that month. An employee announcing their pregnant? Host an informal baby shower. From marriage engagements, to funerals and losses, recognizing your employees personal lives is crucial for them to feel understood as a person as a whole – not just as a member of your workforce.
5. Make them feel at home.
Wear jeans on Fridays, bring in picture frames for your office, put a plant in the conference room – make your employees feel comfortable in your office space. The more comfortable employees feel, the more likely they are to be open in voicing their opinions, collaborating with others and even handling constructive criticism. A sterile or impersonal work environment rarely breeds a positive company culture – try to find small, but meaningful ways to make your co-workers feel at home.