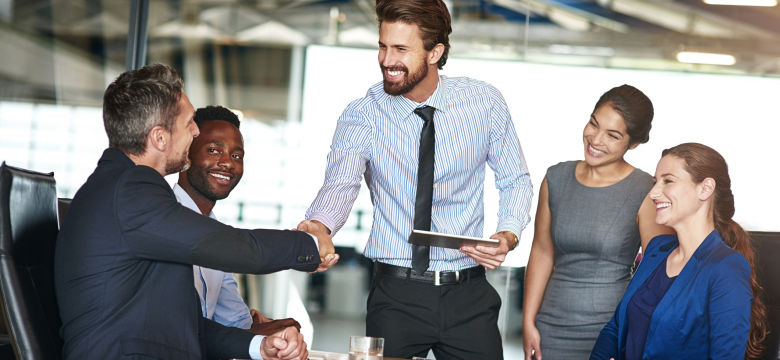 SLAs, ROI, P&Ls – as a boss, you have a lot of acronyms in your brain, and a lot to do on your plate. But one of the most important things you have to do is lead your teams and inspire your employees. To help, we've gathered the ABC's of successful managers.
Adaptable. Understands that projects and tasks do not always go as planned and takes the necessary action to adapt to the situation at hand.
Builder. Works hard to build a solid foundation for the team in order to forge strong relationship.
Confident. Empowers team members to complete tasks and projects properly and promptly.
Dependable. Supports employees by standing up for them and helping them reach their career goals.
Eager. Has an enthusiastic attitude that is contagious. If you are excited about your job, your team will be excited about their jobs, too!
Flexible. Works with employees to overcome challenges rather than making the challenge more difficult.
Grateful. Recognizes hard work, from the daily wins to long-term strategic gains.
Honest. Let's everyone know where they stand in a constructive way.
Intuitive. Recognizes issues before they arise and develops proactive solutions.
Just. Acts fairly in all instances, encouraging trust and respect among employees.
Knowledgable. Strives to stay on top of current best practices, trends and issues.
Leader. Leads by example, exuding professionalism and encouragement that will translate to their whole team.
Motivator. Makes people want to work hard and contribute to the organization each day.
Notice. A good manager notices the little things that their team members do and recognizes that many small things can make a big difference!
Open-minded. Thinks outside of the box and pushes the envelope, when appropriate.
Positive. Always communicates meaningful praise and constructive criticism.
Quick. Promptly answers emails, approves requests, and responds to questions.
Respectful. Treats everyone professionally and with due respect.
Self-aware. Realizes that the way they behave, communicate and manage directly impacts others.
Trusting. Empowers employees by giving them responsibilities and rewarding success.
Unwavering. Adheres to established policies, demonstrating that nobody is above the rules and that workplace rules are universally understood.
Vulnerable. Understands that they are not superheroes and, as such, they are able to make mistakes.
Work-life balance. Recognizes that employees work best when they have a nice balance between their professional and private lives.
"X"traordinary. Always strives to do better.
Yes! Says "yes" and encourages employees.
Zealous. Has a passion for the organization's causes and goals, which inspires their teams to feel the same way.
For more management tips you can use to become an even better leader, contact us today!