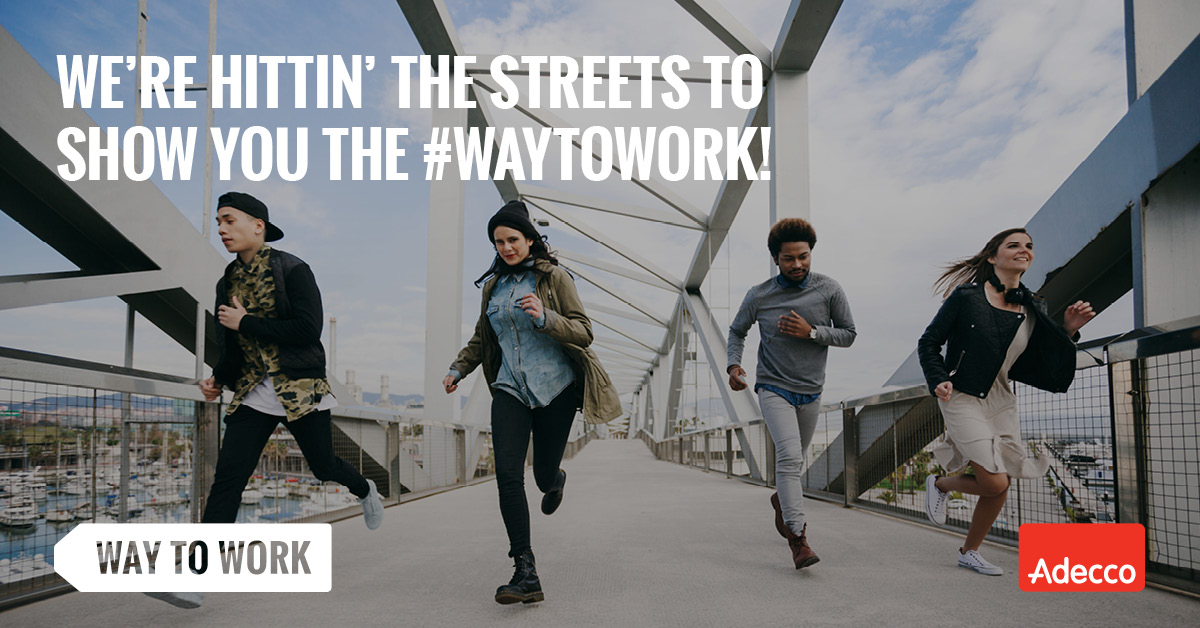 Adecco Street Day is taking on the youth unemployment epidemic. It's become a meme worthy paradox. New graduates and students go in search of their first work experience, only to be confronted with rejection based on their lack of said experience. In an effort to raise awareness and combat youth unemployment, we will be hosting Adecco Street Day events worldwide during the month of March.
What's Way to Work?
It's global. It's fun. It's focused on making a difference. Adecco employees in over 50 countries roll up their sleeves, get out into the communities where they work, and provide free career advice. Adecco believes that the right to work is universal!  That's why our colleagues around the globe will be taking to the streets armed with tips on how you can improve upon the hard and soft skills that today's businesses and hiring managers are demanding.
THE YOUTH (UN)EMPLOYMENT PANDEMIC
As the world experiences sluggish economic growth, the issue of youth unemployment is becoming more apparent. Though unemployment has impacted many different people in the United States, youth joblessness figures are more than double that of the national unemployment rate. In January of 2016 the BLS reported a rate of 12.1% among 16-24 year olds– compared to the national unemployment rate of 4.9 percent.
Let's face it a 12% unemployment rate is pretty dismal and the global picture is not looking any better. In the European Union, the average youth unemployment rate is 21.9%.  Countries like Spain, Greece, Croatia and Italy are reporting figures higher than 40 percent. Sadly, the International Labor Organization estimated that 74 million young people worldwide were jobless in 2014 and an official from the International Youth Foundation alleged that an imperfect reporting system means that the number was probably 6-7 times that in reality.
The lack of opportunity for young people is a problem, and we are here to help!
We're Beating Unemployment with Adecco Street Day?
Keep your eyes peeled in March! Throughout the month, Adecco will be hosting events worldwide aimed at arming first time jobseekers with the tools they need to succeed in the workforce. In addition to various events happening throughout Europe on March 17, Adecco's flagship event in the United States will be held Wednesday, March 16 at the University of North Florida (UNF) in Jacksonville, Florida.
Those in attendance at UF's The Reitz Student Union will have the opportunity to access useful career tips and resume advice. Local businesses will be on hand to offer on-the-spot summer internships and participants will have the chance to apply for our coveted CEO for One Month (paid) summer internship. We are even hosting our first InstavatorPitch Contest, where we take to Instragram to judge the best 15 second elevator pitches from our future CEO for One Month candidates. It's a great opportunity to have fun while setting yourself apart from the competition. We hope to see you there!
Want more details? Check out out Way to Work page to learn more.