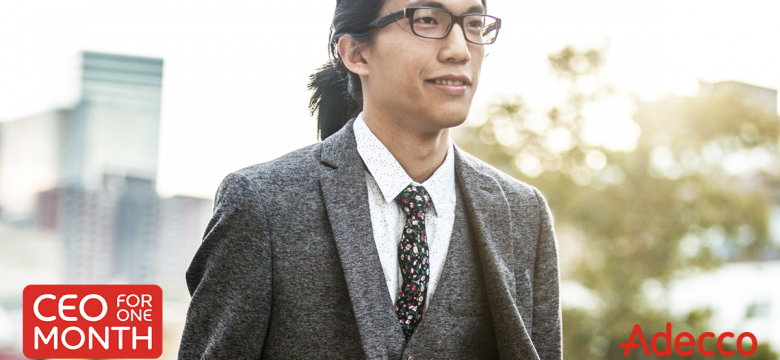 How will you earn that $10,000? Oh, you know, just be the CEO of our Fortune Global 500 company, for one month. NBD. You'll work, travel and meet other business leaders like our President, Joyce Russell. Your résumé will thank you, and so will your pockets. Because, you know…$10k.
We're for real, here's our Apply Page and everything! Curious about the apply process? We've had our 2016 CEO for One Month, Courtney Berger, write about the beginning of her ordinary to extraordinary experience!
Courtney's Story
In March of last year, I thought I would be moving to Atlanta, GA to expand the company I was working for. Then one morning I was told, "Courtney, you've done everything right, but we cannot afford to keep you on board," I was in total shock. But I've always been a self-starter and problem solver, I knew it was just a matter of time before my logic and determination kicked in to figure out what to do next.
I decided to call my dad's best friend who owns a staffing company in my hometown. He gave me the number of a woman who I thought had a job opening, and I called her right away. Turns out she was a life coach! Nonetheless, she sent me an email a few days later. I opened the email and saw a scanned flyer that said "Apply for your once-in-a-lifetime chance to become Adecco's CEO for One Month!"
I had never heard of Adecco before, but I decided to apply for the CEO for One Month internship. The first step was to complete a situational quiz with questions such as, "If the CEO doesn't show up for a big presentation on the first day of your internship, what would you do?" I tend to love these questions, so I went through it with excitement. I hit 'submit,' clicked out, and put it on the backburner for about a week or two.
A couple weeks later I received an email saying "Congrats! You made it through the first round of the CEO for One Month race! For the second round of judging, please send a 30-second video as to why you think you should be Adecco's CEO for One Month." My creative juices immediately started to flow. I knew that I wanted my video to be creative and unique, and I somehow wanted to incorporate my passion for water sports. I thought to myself, "what would both humor and intrigue the panel that will be watching this video?" Without skipping a beat, I created the below video.
The team got such a kick out of the individuality and creativity of my first video that they asked me to submit a second. I stepped it up even more by wearing a Hawaiian shirt and jean shorts while skating down the street on a longboard and talking to the camera.
If I had advice to give for this year's applicants, it would be to show your personality. Whether you play the trumpet or tap dance for fun, throw a little spice in there to help you stand out. Anyone can stand in front of a camera and say why they'd be a great fit for this internship, but not everyone can show us why. Be the outlier and the needle in the haystack. Show your personality, and set yourself apart!
What You Need to Know about the CEO for One Month Internship
Who? You, applying to intern with our President, Joyce Russell and other business leadership.
What? Have you been reading?
When? Applications are due by April 15. The same day as your tax return. The U.S. Boot Camp takes place May 15 – 19. If you become the CEO, the internship will begin in June.
Why? To start your career off with a bird's eye view into the inner workings of a multi-billion dollar company.
What are you waiting for? Apply for the CEO for a Month Internship Program and start your career with CEO on your resume.