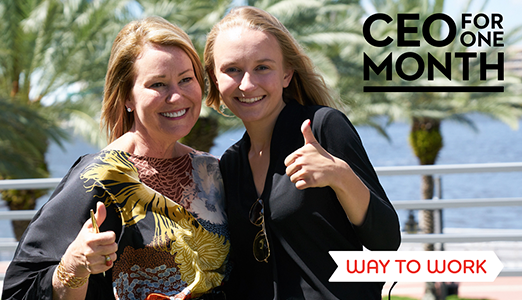 How will you earn that $10,000? Oh, you know, just be the CEO of our Fortune Global 500 company, for one month. NBD. You'll work, travel and meet other business leaders like our President, Joyce Russell. Your résumé will thank you, and so will your pockets. Because, you know…$10k.
We're for real, here's our Apply Page and everything! Curious about the apply process? We've had our 2017 CEO for One Month, Sydney Rieckhoff, write about the beginning of her ordinary to extraordinary experience!
Sydney's Story
I was looking for a summer internship when I came across an ad for the CEO for One Month program. At first it seemed too good to be true, but I had this gut feeling that this opportunity was something really special and I wanted to know more.
By the time I found out about the program I only had two days before the application deadline! I stayed up all night constructing a script for my application video and spent the entire next day filming in a variety of locations around my hometown to set myself apart.
When I got the call that I made it to "boot camp" in Jacksonville I was so excited! I started screaming as I jumped up and down with excitement, which made for a few awkward stares in the middle of my college campus.
Boot camp was truly indescribable. The experience of being one of six accomplished, diverse, and motivated finalists was inspiring, and it honestly felt more like a group of friends than an interview.
Standing on stage and hearing Joyce, the President of Adecco Staffing, name me as the CEO for One Month is an experience I'll never forget. I felt so lucky and grateful. I took this feeling with me to each branch I visited throughout my month as CEO. I'd never seen an organization with such passionate and impressive leaders spread across its entire workforce: but here was The Adecco Group, demonstrating the results that come from recruiting, developing, and maintaining such a strong and positive group of employees.
As part of the program I was able to implement my own idea of traveling around the United States to pump-up branches around the country and inspire more colleague engagement. Dozens of Adecco teams pitched why Joyce & I should visit their branch, and it was difficult to select who to visit! While that may have been the most tiring week of my entire life, it was also one of the most fun and memorable I'll ever have. From touring a coal mine in Wyoming, to a private dinner at Churchill Downs in Louisville, all the way to a day at the Coach offices in New York City: that's a CEO-level experience most young people will never have!
And while my time as the United States CEO was incredible, my efforts in earned me a spot at the Global Boot Camp in Paris. To be able to interact with global leadership on such a personal level exceeded my wildest dreams. And the finalists, what a group! I still talk to the nine other boot camp participants every day, and we are already making plans to visit each other in our respective countries.
To sum it up: to me, participating in the CEO for One Month program felt a lot like winning the lottery, only better. The people I met and the connections I formed will last me a lifetime, and the knowledge I learned, the experiences I was able to have, are unlike any other internship out there. If you have the chance to apply, do it. It's an experience unlike any other.
What You Need to Know about the CEO for One Month Internship
Who? You, applying to intern with our President, Joyce Russell and other business leadership.
What? Have you been reading?
When? Applications are due by April 16th. The U.S. Boot Camp takes place during a week in May. If you become the CEO, the internship will begin in June.
Why? To start your career off with a bird's eye view into the inner workings of a multi-billion dollar company.
What are you waiting for? Apply for the CEO for a Month Internship Program and start your career with CEO on your resume.