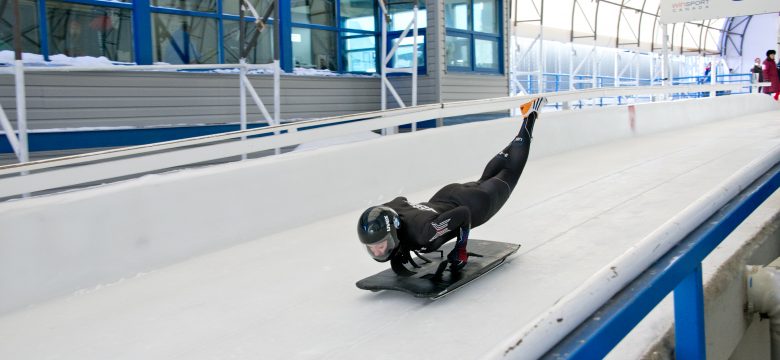 The Olympic Winter Games PyeongChang 2018 start this week, and Adecco Staffing is a proud sponsor of Team USA!
Athlete Savannah Graybill has been an Adecco colleague working in corporate communications and a former CEO for One Month candidate. She's also a USBSF (United States Bobsled and Skeleton Federation) athlete who competed for a spot on Team USA this year. She shares her story with us:
---
When you chase after an Olympic dream, you're constantly reminded how difficult it is to become an Olympian.
What they don't tell you is how difficult it can be not to become one.
On January 15th, the US Olympic Skeleton team was named; my name was missing from that roster.
I felt a myriad of different emotions following this announcement—feelings of frustration and embarrassment, and inadequacy and self-doubt. I had a hard time seeing anything other than failure through the fog of disappointment swirling around in my brain.
In that moment, it was easy to focus on the result—or lack thereof—and ignore the journey that had brought me to this point. That is, until I came upon this quote in one of my favorite books:
"It is our choices that show what we truly are, far more than our abilities."
Though my abilities fell short this Olympic season, my choice to chase this dream granted me incredible opportunity. I've traveled the world, earned my Master's degree, discovered my inner entrepreneur and worked for amazing companies full of incredible colleagues.
A great deal of this opportunity and success is thanks to the Adecco Group. I connected with Adecco in 2015 when I joined the Athlete Career and Education (ACE) program. I wanted to be able to work toward my Olympic aspirations while also preparing for a professional career. These mentors helped me rearrange my resume, hone my interview skills and find work in my desired career path. This connection also led me to apply for the CEO for 1 Month internship program.
I won the internship in 2015 and experienced a whirlwind of a month, traveling the country, participating in meetings with clients and gaining knowledge from CEOs, VPs, life coaches and colleagues. I watched as these CEOs and executives managed and guided the small, moving pieces of a global Fortune 500 staffing company into one cohesive, collaborative unit.
I had access to all of these amazing experiences because of my choice to take a step outside of my comfort zone—the training room—and apply for an opportunity in the boardroom.
Through my CEO for 1 Month and ACE program experiences, I've learned that being an athlete and having a career aren't mutually exclusive. I've learned that choices are everything. The choices I've made to chase my dreams—both athletic and corporate—have led me to be a part of something bigger than myself. To use my talents and lessons in a way that inspires others to do better and to be better. To give them the confidence to work toward their goals despite the challenges and uncertainty they may face.
It was my choice to put it all on the line and prepare myself for my future that granted me these opportunities. I've learned to put aside my fear for the unknown and unfamiliar, and go after what I want.
I'm not sure where I'll go from here—whether it's another 4 years for the 2022 Winter Olympics or a firm step into the corporate world—but I know no matter what choice I make, I know I'll be prepared.