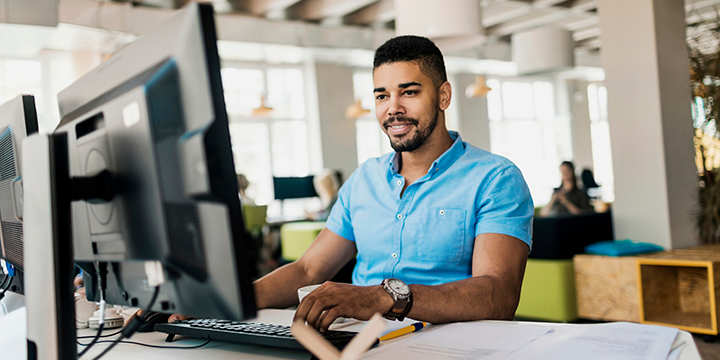 In the U.S., the unemployment rate for young workers is about twice as high as the national rate. OK, so that's not great. But let's reverse that trend. How? Internships are a great place to start.
This year, we're trying to put more than 5,000 young people to work in internships around the world. By decreasing youth unemployment, we can give employers the experienced candidates they are looking for.
Why should you consider hiring an intern? We'll give you five key benefits.
1. Interns can easily transition to a full-time employee
Recruiting an intern gives employers the opportunity to mold a potential new hire. Just hear what our President, Joyce Russell, said to Entrepreneur, "Implementing an internship program allows you to secure candidates early on and help them develop the skills they need to succeed in your company."
Encourage them to attend meetings and complete tasks that require interaction with coworkers from different generations and departments. By doing this, an intern will quickly build soft skills and company familiarity, resulting in efficient future team members.
2. Mentor
Interns are a source of energy for any level of professional development in your company. With three distinct generations now in the workforce, partnering long-standing employees with someone just beginning their career allows for fulfilling opportunities. They can lend their knowledge and experience to harness the excitement and potential of a young professional for the future of their team.
Further, interns can be a source of professional development for your employee's leadership skills. They'll keep your employees engaged, challenged and give them a sense of importance. Develop both new and old talent and see your retention rates increase.
3. Interns help manage your time
You know the feeling, it's two o'clock and you realize you have until the end of day to complete a million tasks. You end up prioritizing which ones you believe are most important, even if every project holds equal significance.
Don't allow projects to fall to the wayside. An intern picking up the workload is not a new concept; in fact, it's probably a leading factor in why you would hired one. Give them the small, more straightforward projects you can't fit in your schedule and keep your completion rates high. 
4. Fresh ideas
Encourage an intern's value on a larger project and begin to see their fresh perspectives enact change. If you particularly hire an intern from your target market, think of them as an idea wheel house. An intern at full value can be a major disruptor in a stagnant business model.
5. Interns are your future workforce
Nothing sets a company back like the loss of staff members, this is where an internship program can prove vital. The National Association of Colleges and Employers' (NACE) 2016 Experiential Education Survey showed that at the five-year mark, hires who interned at the company are 54.9 percent likely to persist within the company.
Growing an intern's knowledge of your particular business can give them a skill set ready to be encouraged throughout their career. Think of how you're able to mold them specifically for your company, fresh out of college.
What are you waiting for?
Interns bring a unique set of skills to the table and, if encouraged, a proper internship program can generate seasoned new hires for your company.
Begin prioritizing intern placement today and watch your business's productivity, retention and success grow. Reach out to WaytoWork@adeccona.com to find your next intern.
Want to see how we're fighting youth unemployment? See our Way to Work program!