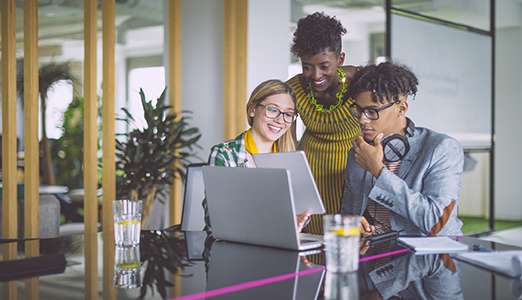 Thinking internships might be a smart path for you? The good news is that the value of internship experiences are still strong in the eyes of employers. According to an annual survey done by the National Association of Colleges and Employers (NACE), 95% of employers reported that candidate experience is a factor when hiring. Finding the right internship can be the key differentiator that sets you apart from other recent graduates. Still, it can be tough to find the "right" internship, especially if you're not sure about what you want to do.
If your ahead of the curve and have done your internship homework, consider applying for one now.
If you're like most people, looking for some insights on the process, use our three tips to simplify the internship search and hone in on the best opportunities.
Look at the big picture.
Take a step back and consider your options from a position of strength. Ask yourself key questions about what your want from your career.
Does your ideal profession down the road involve being the boss at a big firm?
Do you want a fun culture that has solid work-life balance?
Where do you see yourself in 3-5 years?
What would be an ideal job for you in the future?
Who do you want to be professionally in the next few years and beyond?
These questions will naturally guide your thought process as you explore options. Once you've established where you want to go, it's much easier to determine how to get there and which internships will help you build the skills you need along the way.
Do your homework and pick favorites.
With a clear set of goals in mind (and written down), you can begin to dig into the research. Google will be your best friend. Even if you have a few career paths in mind you can follow these steps.
Review the job descriptions for positions that are part of your 3-5 year professional plan.
Look for the key skill sets are desired for the role and keep a running list.
Reference your list as you consider your internship options.
Create another list — the Companies You Admire List. This list should help paint of picture of the type of organization that you are naturally drawn to.
Finally, you are ready to create a short list of internships that would offer you the skill sets you need in the future.
Get connected to the right people and tools.
Now that you have a clear idea of your goals and some initial research to help you make informed decisions, it's time to reach out to people. Getting information from experienced sources is essential.
Start to connect with professionals in your desired industry – LinkedIn is a great way to get started with this. Don't have a LinkedIn profile? Set one up for free today.
Be sure to identify a few leaders you can connect with as well as interns or entry-level employees who could shed light on their experience.
Reach out to your college professors. Your professors are knowledgable in more than just the course they teach, they may also have lessons to share from their past internships.
Additionally, it's important to identify and connect with a respected staffing firm to maximize your timeline once you're prepared. An experienced staffing firm will be able to source a much more comprehensive target list full of options for internships. They'll also be able to guide you effectively now that you've compiled the skill sets you're aiming to build. To learn more, check Adecco's Way to Work program, which helps new professionals launch their careers and find internships.
We can connect you to reputable internships across the country. Our application is just a few clicks away.