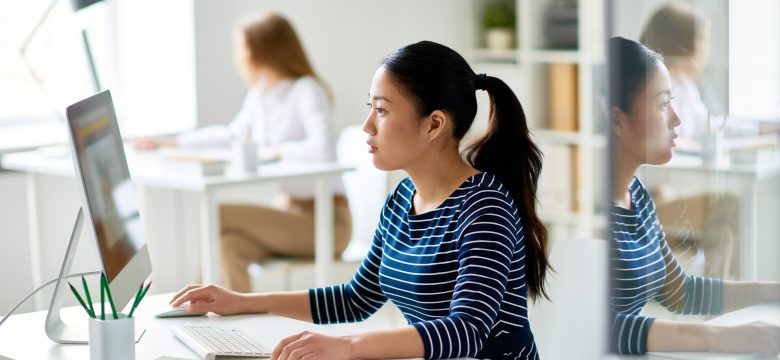 LinkedIn is known by hiring manager, recruiters, and job searchers as the social networking platform for businesses, entrepreneurs, and organizations. It is, after all, the world's largest professional network — and there are over 300 million users to prove it.
Many companies use LinkedIn to distribute their content to an engaged audience of professionals in order to drive those visitors back to their own website. And with reason, according to this article from Buffer, a popular social sharing tool, LinkedIn can send nearly fours times more visitors to your website than Facebook or Twitter.
On the other hand, if you are currently looking for a job, you might be more interested in getting people to actually visit your LinkedIn profile. From there, hiring managers and recruiters can learn more about you and send you inquiries. So how exactly do you get more visibility on LinkedIn?
1) 100% Complete Profile
Creating a profile is only the first step. In order for your profile to be seen, it needs to be complete. An incomplete LinkedIn profile will often appear lower in searches, reducing your chances of a recruiter or hiring manager finding you, and ultimately getting in contact with you. Remember that your LinkedIn profile is not your resume, but it can sure get recruiters interested in getting to know you better and possibly get in touch with you.
In order to get your profile seen by as many eyeballs as possible, ensure that your profile is not restricted in any way — make sure it is set to be public so that it is visible to everyone. Also, make use of keywords, list your skills, and previous positions when you complete your profile. Those need to be directly related to your area of expertise and the industry you want to work in. Recruiters often perform keyword searches on LinkedIn to find candidates.
While you're completing your LinkedIn profile, don't forget to edit your vanity URL. This is the URL that all the major search engines will index and it is crucial to claim those search results for your name as it is your personal brand. To do so, simply head over to your public profile settings page and edit your public profile URL.
2) Participate In Groups
You can think of LinkedIn groups as a gathering place for people with similar interests where you can engage in conversations, help others, post links, and interact with a community of like-minded people. Groups can either be open for anyone to join, or require membership and approval from the group administrator. Private groups are often more focussed than open groups, and you will often find the group manager working to keep the conversations appropriate and on topic.
In order to find groups that are closely related to your industry, you can head over to LinkedIn's group search page and start entering keywords, locations, company names, titles, etc… Once you've found a few groups you would like to be a part of, simply click the "Join" button.
Once you're accepted to a group (in the case of a private group), make sure you read the group's rules and guidelines and make sure you abide by those rules. Then it's simply a matter of participating in discussions, or even start a new discussion and connect with the group members.
3) Your Connections Matter
It does not matter whether you have hundreds of connections already, or just a few. What matters is the quality and relevancy of those connections. Obviously, the more connections you have the better, since the LinkedIn algorithm looks at the size of your network to determine how to rank your profile in search results. Nevertheless, meaningful and 1st level connections have more weight than 2nd or 3rd level connections.
Take the time to add as many of your business contacts as possible. This can be current clients or past colleagues. Your connections can also endorse your skills, giving your profile more weight in search results, and leave recommendations on your profile (which you can approve or deny), thus giving you even more credibility in the eyes of recruiters and hiring managers.
4) Sharing Relevant Content
LinkedIn is a professional social network, and social networking is often associated with sharing relevant content. LinkedIn is no different than Twitter or Facebook in that regard. Sharing valuable and relevant content can increase your chances of getting your profile viewed by the right people.
Since LinkedIn is a professional network, it is not the place to share personal updates. Instead, sharing content that is related to your industry, such as industry news, articles, and other types of content, can go a long way in increasing your visibility.
If you publish a blog, it is common practice to share your own content on your LinkedIn profile. While some may see this tactic as being too self-promotional, sharing your own content regularly alongside content from other sources is generally acceptable. If your content gets read and shared enough on LinkedIn, it might find its way into LinkedIn Pulse — an award-winning application that enables people to read professional and industry-related news, tailored to each user. Imagine having your content read by thousands of people — while it doesn't mean job offers will start rolling in, it sure wouldn't hurt.
To Conclude
LinkedIn is a powerhouse when it comes to making professional connections. They even offer a host of premium services and products to help both recruiters find talent, and job seekers to land their dream position. If you are not currently utilizing LinkedIn in your job search, you are definitely missing out. Get ahead of the curve and in front of the right connections, and start networking on LinkedIn today.
Are you having trouble finding the ideal job or internship? Is your lack of experience working against you? Many young professionals are in this situation, and we're here to help with Adecco Way to Work. Click here to learn more about the Way to Work Program.