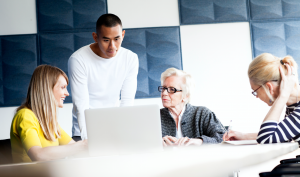 Technology is disrupting traditional recruiting practices. The paper resumé is no longer the preferred method for a candidate to inform an employer of their skills. Candidates now create virtual brands via social media and personal websites, thus shifting recruiting to a primarily digital practice.
There's an unprecedented demand for highly skilled employees, and we are officially in a candidate-driven job market. Because of this competitive landscape, some candidates may expect potential employers to reach out to them rather than taking a proactive approach. It's crucial for you to be strategic in your use of technology. Let's face it – you can't afford to fall behind in this constantly evolving technical landscape.
Optimize for mobile technology
It may (or may not) surprise you that 90 percent of job seekers use mobile devices to conduct key functions when looking for their next career opportunity. That means it's critical that your website is optimized for today's smartphone technology. A mobile-friendly, responsive website is vital to winning the talent war, as candidates expect employers to harness smartphone technology to expedite the application process.
More and more staffing companies are also using mobile apps to track the performance of temp workers and provide employers with real-time analytics. Things like attendance, performance reviews, project management, etc. can be monitored easily and efficiently through a mobile app.
Training is another function that can be enhanced with the use of mobile technology. If employees can access training modules from their phone, they'll be far more likely to complete them in a timely manner. Wouldn't it be great if all employees arrived on their first day of work with a solid understanding of their tasks and job safety protocol?
The rise of recruiting marketing
"Recruitment marketing is every tactic that talent acquisition team members use to promote their employer brand message so that they can more successfully find, attract, engage and nurture leads and ultimately convert them into applicants," says Mike Hennessy, founder and CEO of Smashfly Technologies. This includes social media recruiting, SEO, email nurturing, employer branding, talent networks and much more. Having a recruiting marketing function may be a relatively new concept for some, but it's shaping the way companies build a pipeline of qualified talent and nurture job seekers long before they're actively seeking employment.
According to Hennessy, "Organizations that employ recruitment marketing techniques can generate three times more leads, 10 percent greater revenue and a 100 percent higher close rate."
These tactics differ from traditional job advertising in that they focus more on the company's brand value than the actual job vacancies. Often the best candidates aren't actively looking for a job, which means they're not likely to click on a job ad or peruse job boards. Companies need to build a relationship with these candidates by providing value in other ways, so that their brand name will remain top of mind when the candidate is eventually ready for a job change.
Social media engagement
One of the most powerful recruitment marketing tactics is social media engagement. According to our Definitive Guide to Building a Better Workforce, "Best-in-Class" companies are 45 percent more likely to share content and job postings across social media platforms, strengthening the daily presence of their brand. And apparently it works – our research found that these Best-in-Class companies are also 37 percent less likely to have trouble sourcing qualified candidates.
While it's beneficial for recruiters to post organically on their personal networks, paid advertisements can add another facet to their candidate search. The advanced targeting tools coupled with the massive amount of user data that social networks have stored make it extremely useful for recruiters.
Recruiters and technology – talk about two peas in a pod. Are you ready to work with a staffing firm that understands these tools and uses them to help you find the ideal candidate faster and cheaper? To see the two in perfect harmony, contact us for more information.
At Adecco, we have clients in every sector and every region of the country who have staff augmentation plans in place. To get more information about how our staffing solutions can help in this job market and to sign up for our emails, click here!