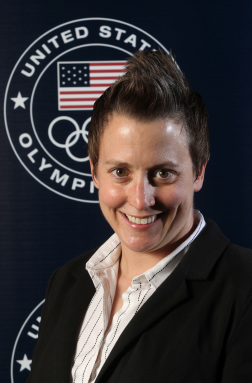 Adecco USA is a proud sponsor of the United States Olympic and Paralympic Committee (USOPC), making it a little easier for athletes to chase their dreams by connecting them with flexible job opportunities and offering them career coaching. In lieu of real-time Olympic-themed content, which will have to wait until 2021, we'll be profiling several of our Athlete Career & Education Program (ACE) professionals. So get to know them, see how they're helping America's top athletes, and how they might be able to help your business!
Where are you from? Who are you outside of work? Just take a moment to introduce yourself.
My name is Angelique "Angel" Hall Bovee. I was born and raised in the small town of Norwich, NY. I'm a retired three-time Team USA boxing champion and certified career coach currently working with the United States Olympic and Paralympic Committee's (USOPC) Athlete Career and Education (ACE) Program as a colleague of The Adecco Group. I live in beautiful Colorado Springs with my wife and two fur babies where we like to spend as much time outdoors as possible.
What did you do before Adecco?
Out of college I had an eight-year career as a television producer/director for a station in Albany, NY. When my boxing career became serious after I won my first national championship, I made the difficult decision to resign from that position to pursue my boxing career full-time. I have represented Team USA at two World Championships and served on the Board of Directors of USA Boxing.
When did you join Adecco? What brought you to the company?
I retired from boxing during the great recession in 2008. I found it difficult to find a satisfying career at the time due to the high rate of unemployment. I was fortunate enough to get a full scholarship to get my master's degree in recreation management. After I graduated in 2011, I restarted my job search.
I heard about an opportunity working with the USOPC as a member of The Adecco Group. The USOPC knew me from my past advocacy work with athletes as well as my experience on Team USA. At the time, the Adecco Group was a new sponsor of the USOPC and was hiring an individual to help create and grow a program that served athletes with career services. Due to my own personal challenges during sport, including living in my car and having a host of part-time jobs, this was a cause I was—and still am—very passionate about.
What's your role at the company?
I am a certified Career Coach with The Adecco Group working with Olympic and Paralympic athletes all over the United States. We work with both currently training athletes, as well as athletes retiring from sport.
How do you deliver on this? What's your personality? Your style?
I help athletes assess who they are outside of sport and then assist them in exploring various career fields that would align with their interests, values, and skillsets. In addition, we work on resumes, cover letters, LinkedIn profiles, job search strategies, salary negotiation, tapping into hidden job market, and much more. My goal is to prepare an athlete for their next big competition, the job market!
Since I was an athlete in their shoes—or sneakers I should say—and struggling myself with the transition out of sport, I think I bring compassion, trust, and vulnerability to my coaching style. My goal is to not only build a client's confidence to face all of life's transitions, but to teach them employability skills and ultimately assist them in finding meaningful work that they can be excited about.
What's the biggest way you impact the business?
Adecco serves Olympic and Paralympic athletes in over 30 countries with the International Olympic Committee (IOC). I serve on the IOC's Steering Committee where I represent 30 Adecco Athlete Programme Country Mangers in sharing best practices and creating strategy to help The Adecco Group maximize their services to athletes worldwide.
Since the Adecco Group is the only staffing company to sponsor Team USA, I hope U.S. colleagues can take pride in knowing Adecco is assisting some of America's best athletes succeed on and off the field of play. The Adecco Group is truly part of the team behind Team USA!
What's your favorite moment during your tenure here, and why?
Some of my favorite moments are when I get to serve an athlete who was considering leaving sport because they couldn't afford the expenses of travel, training, and competition go on to get a part-time flexible job and then see them compete on the world's largest stage and fulfill their Olympic or Paralympic dreams.
When you're having a bad day, how does working here make it better?
Whether you have helped an athlete stay in sport by finding them a part-time flexible job to help them pay their bills or assisted an athlete in transitioning out of sport and helping them find their next fulfilling career, being a small part of helping them fulfill their potential is very satisfying. When an athlete I helped a decade ago comes back and wants to help a younger athlete get connected within their workplace to help them be successful… that makes all the effort worthwhile!
Where do you see yourself going next?
I am happy to say athlete development is a growing field within university programs, pro sports leagues, and Olympics and Paralympics. Treating athletes holistically rather than as medal makers is something I want to continue to advocate. I am also passionate about growing female sport opportunities and creating more diversity, equity, and inclusion at all levels of sport including within teams, coaches, administrators, and sport governance.
Lastly, sell the world on Adecco. Why Adecco?
Adecco has allowed me the freedom to be an out-of-the-box problem solver. They have not only been supportive but have contributed as thought leaders in the substantial growth of the athlete career services over the last decade. Every year Adecco brainstorms new resources to assist athletes and I am proud of the work we have done to address the evolving challenges of elite athletes. Since 2010, Adecco has served over 1,000 athletes with career and transition services!
Follow the good work Adecco does in assisting Team USA at #HireaRinger
And to keep up with me…
Website: www.boxingangel.com
Facebook: https://www.facebook.com/MotivationalSpeakerangelbovee/
Instagram: angelbovee
Twitter @AngelBovee