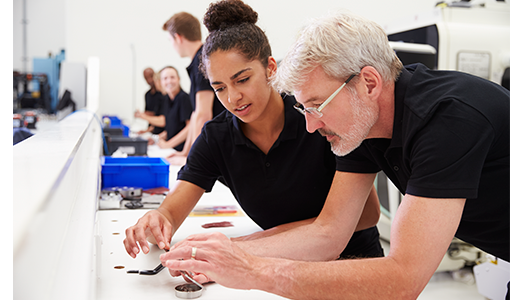 The Adecco Group reported in its fourth annual Global Talent Competitiveness Index (GTCI) that vocational and technical skills are one of the greatest challenges facing the US workforce today. There is a tremendous amount of opportunity, but job candidates are missing the right skills and experience to fill available positions. We've seen firsthand how registered apprenticeships can feasibly close this skills gap. But, while a movement is taking shape, we have a long way to go before the apprenticeship model becomes a mainstream solution in the US.
Often, there's confusion about what a registered apprenticeship actually is. A true registered apprenticeship is a paid opportunity to learn on-site at a company and is filed with the Department of Labor (DOL), adhering to its official standards. To clarify, an apprenticeship is directly tied to paid employment while an internship is geared more towards career exploration. 
Many employers have apprehensions when considering an apprenticeship program. However, with the DOL reporting that 91% of apprentices who complete an apprenticeship are still employed nine months later…it's time to change the stigma.
That's why I'm discussing three common misconceptions about apprenticeships:
1. The paperwork is time consuming.
The paperwork for registering an apprenticeship is straightforward and simple; it's a beautifully laid out digital form that can be submitted electronically. In addition, tracking the time spent on on-the-job training is even easier to submit within the DOL's online tool, and as the apprentice program concludes, you will already have the data in one place to help assess return on investment. 
2. You don't have control over your program.
Registered apprenticeships can be designed to meet the specific needs of your business – from the skills being taught to the stipulations a student must adhere to while on-site. Further, the apprenticeship is never set in stone. Just as your workforce needs change, your program can shift and morph to best suit your business goals.
3. You can't employ minors in manufacturing/trade environments.
While a registered apprenticeship traditionally employs those over 18 years of age, a registered pre-apprenticeship program is a partnership between educational institutions, employers and other stakeholders who implement on-the-job training, geared towards equipping youth with the skills needed for a career path in authorized verticals. Students who struggle in a traditional educational environment or do not have the means to attend college need a way to become career-ready – a registered pre-apprenticeship is their answer.
Adecco USA is actively working to dispel these three misconceptions. In 2015, we established the Youth Employment Solutions (YES!) Program, which offers work-based and pre-apprenticeship opportunities to high school students in Kentucky, in partnership with state and local officials, as well as the Tech Ready Apprentices for Careers in Kentucky (TRACK) Program.
In 2017 we signed a Memorandum of Understanding with the Ohio Department of Education, becoming a partner with the state in on-the-job training efforts aimed at strengthening Ohio's labor market.
My team at Adecco USA is passionate about changing the conversation around the future of our workforce. Connect with us to learn how to fill skills gaps and position your business for success as the labor market continues to evolve.