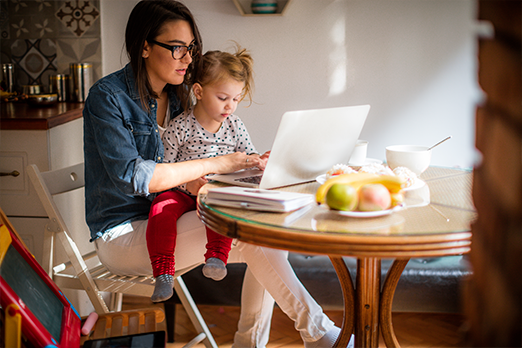 We've always been advocates of females in the work environment, and have recently spent a lot of time thinking about what that really looks like. For a lot of female workers, that definition includes being a mother. 
Today there seems to be a specific pressure for working mothers to "have it all," to seamlessly balance a job and children. We all know the perfect work/life balance doesn't exist – but what steps do you take to try and create some equalism, without allowing it to get you totally stressed out? 
With Mother's Day just around the corner, we asked three of our executives who are working mothers to share the steps they take to help them succeed at being both a mother and a career woman. Here's what they had to say. 
This November marks my 30th year with Adecco, and for 20 of those years, I was working very hard to juggle my work life and my home life, and keep all the balls in the air! Though my children are now grown, I still vividly remember the "push and pull" between my home and my office.
As working mothers, the fact is we can't always have it all. That being said, there were three things that helped me to balance my career and my family life: 1) having a solid support system, 2) staying organized, and 3) using "10-10-10" we can make the most of our time at work and at home.
I give a tremendous amount of credit to my husband for being my support system, but I also surrounded myself with talented people with great attitudes who were willing to work hard and help me get the job done.
I've also found that by staying super organized – not just in the office, but at home, too – I can make more efficient use of my time. From meal prepping on the weekends, to buying work-related cards or gifts while running personal errands, I try to strategically organize my tasks in a way that allows me to eliminate some of the stress of things I have to figure out when I arrive home from work.
Finally, one of the best books I've read is Suzy Welch's "10-10-10."  The book asks us to look at each decision in terms of what impact a decision will have on our lives 10 minutes from now, 10 months from now, and 10 years from now.  When you are uncertain or anxious about making those tough decisions about how to spend your time, "10-10-10" is a super useful tool to help you make the best decision for your work and your family.
Work is tough. Being a mom is tough. Being a working mom is tough. We wear a lot of hats, we do a lot of juggling, and we all want to finish the day feeling like we crushed both the mom and the work roles. Until I had children of my own, I didn't quite understand just how much they would teach me about being a good mom and about being better in my work life. Better than any corporate training, here are a few nuggets that my mini-me has taught me in the past few years.
TENACITY: If we approached every single sales call with the same relentlessness that my 4-year-old does when she really wants something, we would never lose. My daughter refuses to take no for an answer. She asks questions, challenges every single one of my objections and even negotiates with me until she gets an answer she is satisfied with. Can you imagine if we did that with every prospect or client?
BE PREPARED: Being a parent has absolutely made me more time conscious and organized at both home and work. I never close my day without reviewing the day's action items, creating a to-do list for the next day, and reviewing the remainder of the week to make any adjustments or changes. The work day throws a lot of curve balls – having regular routines in place to adjust your priorities are key to not losing traction when you have to juggle the craziness that life throws at you.
PRESENCE: I didn't realize just how much my morning rush was affecting my daughter until my last maternity leave, when I had a chance to slow down. The first day I took her to school, she kept telling me to hurry so that we weren't late and told me I couldn't turn on the radio because we had to make work calls. Ouch. Talk about not being present. I asked her what she wanted to do on the car ride and her answer was so simple – "I want to have fun mommy." So instead of making phone calls we turned up the Trolls soundtrack and sang loud and proud each morning. And the best part about it, she now asks me every morning if I have "sunshine in my pocket." Wouldn't we all be a better person at work and in life if we started our day with a little sunshine in our pockets?
As originally published on FORTUNE.com, Jennifer speaks to a few tactics for braving the home office with kids.
BE UPFRONT: As you get to know your professional team, don't be afraid to be straightforward about your home team. It's okay to say, "Heads up, I have a 5 year old at home with me today, so please excuse any potential interruptions." In many cases, mentioning your life outside of work can help build internal rapport, leading colleagues to root for your success both in your personal life and during office hours. This is especially a good idea for remote workers who are rarely in-office but need to establish effective communication with other team members.
BE QUICK ON YOUR FEET: Try as we may to predict all possible scenarios, there will be incidents that would leave you in complete disbelief, except that the very paint that your child is drenched in is also smeared across the wall, right there in front of you. That's when you have to act fast. You have to weigh your priority in that very moment (Must. Scream. Must. Also. Clean. Paint.) vs. what's priority in the longer term (that important call with your new client).
In these situations, quickly press that beloved mute button and put the call on speaker if it's not already so you can still hear. Do only what's absolutely necessary as far as your young Picasso and the paint. Then, as hard as it is, step away from the scene of the crime and stay focused. I've even stepped into my closet for an important call. At the end of the day, your wall can be fixed, your child can be cleaned, and you've still successfully impressed your new client. Paint happens.
BE PRESENT: I had just returned from three days of business travel and was still wrapping up a conference call when I walked into my house. Of course, I couldn't wait to see my son, but quickly gave him the "Shhh" when I saw him running up to me. As I finished the call, my husband and son ran to the store. I was thrilled to finally give my son a big hug when they got back.
But before I could hug him, my son said, "Mommy, look what I got at the store. It is a phone. So I can TALK to you." (Flash-forward past two hours of hysterically crying and my husband reassuring me that I'm not a bad mom.) Later, I realized that as a parent and as a professional, I'll always be busy, but one of the most important things I can do is be conscience of where my attention is needed most. Weeding out the minutia of workdays (and parenting), and knowing when to hit the pause button to give something or someone your full attention is crucial to showing you care.