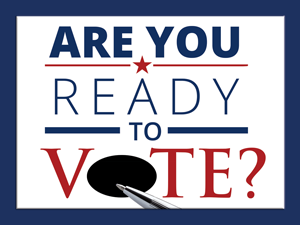 Here's some real talk: politics is not the friendliest office topic these days. You might have already noticed, but the presidential candidates are a little polarizing. OK, hugely polarizing. And that means their supporters are extra passionate, which can lead to some pretty tense conversations in the workplace.
There is a silver lining though: people seem more excited about voting, so hopefully they make it to the polls. That's where you enter the mix. As an employer, you can enable your politically-passionate people to get out and vote without having to worry about sacrificing some work time.
So, we thought we'd lend you a hand. Here are four top tips to help your employees go vote, without interrupting business operations too much.
1) Share information.
A great way to encourage your employees to vote is to provide important information. Send a company-wide email—and maybe even internal social media messages—that include voter registration deadlines, information about absentee ballots and polling locations. You can even do some fun things: a "Countdown to Election Day," red, white and blue cupcakes in the break room… whatever you think will remind employees and maybe even deflate that tense atmosphere.
2) Give employees the time to vote.
This is a big one, and more and more employers are offering it. Are you one of them? We know this might not be realistic for every business or employee, but we encourage organizations to do what they can, for instance:
Make Nov. 4th a holiday. Tech companies are setting this precedent.
Allow—and encourage—employees to take PTO for Election Day.
Be flexible about tardiness or leaving early. Make it known that it's OK.
Encourage those who can to work remotely, so that it's easier for them to get out and vote.
3) Reward your people for voting.
Whether it's donuts and coffee, free lunch or election night parties, employees love a reward. Sure, you usually reward them for work performance, but why not go above and beyond and reward them for being responsible citizens? No, you're not obligated to, and no, your business and politics might not be that closely married, but it's a good thing. Think of it as a form of corporate social responsibility.
4) Start a committee.
Another committee? Yeah, yeah, we know, but hear us out first. A committee would not only help your C-Suite and management team encourage employees to vote, but could also help monitor political chatter around the water cooler—"Hey guys, enough political banter for now. Just take your time off and go vote. Now, how about your fantasy football team…" If you can't round up enough volunteers in time for the 2016 election, keep this in your back pocket for the future.
Between the debates (and all the personal shots fired during them), post-debate analysis, office chatter, social media back and forth, and our country's overall divisiveness, this isn't an easy time, but we hope our tips make it a bit easier at your company. At minimum, they'll allow your employees to relax and comfortably vote. And that bit of support puts you ahead of countless other employers. So good luck and go vote!