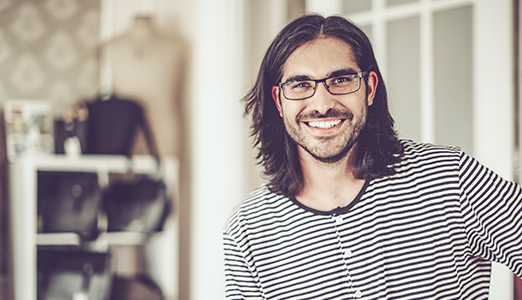 In an industry that is ever-changing, it is crucial to keep a pulse on current fashion trends and how they impact employment opportunities. One thing remains a constant need for job seekers: preparation. For the innovators and creators behind the scenes, here are five tips for applying and interviewing for fashion design jobs:
1. Always have an updated portfolio that reflects your aesthetic and experience.
Every design job will require a portfolio to demonstrate your aesthetic and accomplishments. Your specialty will determine what they'll want to see (ex: Apparel Designers – mood boards, hand sketches, flats…Print Designers – mood boards, color stories, original artwork, reworked prints, etc). The rule of thumb is to show your process: mood boards and research all the way through the design. The next most important element is presentation – make it clean and easy to review. Try to avoid bulky books. It probably won't cost you the job, but it makes your interview run more smoothly to have a small book or electronic device that you can easily maneuver during your presentation.
2. Have a point of view!
While adaptability is a good trait to have, hiring managers are seeking talent with a clear point of you. What do you see? What inspires you? How does that reflect in your work? As with any art form, your individuality should be nurtured and expressed. Particularly in fashion, you'll want to show how your voice translates into trend-right pieces in line with the brand's aesthetic.
3. Research the brand before you interview.
In addition to being highly creative, it's a designer's job to understand their customer and create a collection geared toward their preferences and lifestyle. It's important to find that balance between thinking outside of the box and thinking strategically. For example, if you're interviewing for an athleisure brand, your evening gown sketches can probably stay at home or move toward the end of your book. Brands want to see that you've taken the initiative to understand their business, aesthetic, and customers, so showing relevant examples is essential. You may even choose to create a project specifically for the brand to which you are applying or interviewing.
4. Keep up with technology and how it effects trends.
For each specialty area of design, there are unique programs and techniques. New technology is developed constantly and it benefits you as a job seeker to stay in-the-know. For example, there are now 3D programs to change the way technical designers fit garments! Some resources include tech blogs, WWD, and even job postings! See something that you don't recognize in a listing? Try looking it up and see if you can learn more online.
5. Be able to clearly communicate your ideas and process.
The design process is highly collaborative, and you'll likely work with several teams outside your own as well as manufacturers and factories. One thing that will never go out of style is the ability to clearly communicate your message. Whether in the interview process or during your work day, you're expressing ideas and making strategic decisions on a regular basis. An equally important part of communication is listening to what is being expressed to you as well. These soft skills are some of the top things employers seek!
For the latest opportunities, visit the Adecco Creative & Marketing website or connect with me on LinkedIn!
Looking for your next opportunity? Check out the Adecco Creative & Marketing job board for updates and opportunities.