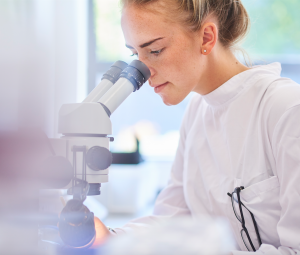 Medical and science employers must ask themselves a very important question – why does top talent stick around? As the industry continues to see positive growth, employers must focus more attention on retaining their best medical and science professionals. Check out what medical and science professionals ranked as top benefits during a recent survey.
1. Salary
Although there are many benefits for professionals in the medical and science industry, salary ranked number one. Competitive salaries will continue to be a focus for medical and science professionals as the industry continues to have high demand.
2. Chance to Work On a World Changing Effort
The ability to work on a world-changing effort came in at a very close second in our survey. Medical and science professionals thrive on the idea that their work is meaningful and life changing. The salary may pay the bills, but the work these professionals do on a daily basis has the ability to make an impact. Finding fulfillment in their work every day is a critical benefit for many medical and science professionals.
3. Continuing Education and Training
As the medical and science industry continues to evolve, it is essential that professionals in the field continue to grow along with it. Medical and science professionals place a high priority on the ability to stay on top of the latest industry trends.
4. Opportunity to Advance in Career
The medical and science industry is complex, providing various paths for growth and advancement. Professionals see the importance of the ability to advance within a single organization instead of moving across organizations to move up the ladder. Employers that provide the opportunity for advancement and help shape their employees for upward growth see higher retention rates, even with the ever-growing opportunities in the medical and science industry.
5. Flex-hours
Employees value organizations that see the importance of rewarding their staff for their hard work. Professionals who work flex-hours feel as if their work-life balance remains stable, fluctuating with the everyday ebb and flow of what life throws at you.
6. Paid Maternity/Paternity Leave
In keeping with the trend of work-life balance, the ability to take paid maternity/paternity leave is very important to those in the workforce. Many professionals have the desire to grow their family as well as continue to develop a career. Organizations that value employees' family life are highly valued among medical and science professionals.
7. Unlimited On-site Food
Who doesn't get hungry throughout the day at work? Although medical and science professionals ranked unlimited on-site food among the lowest of their priorities, don't underestimate the importance of keeping your employees well fed!