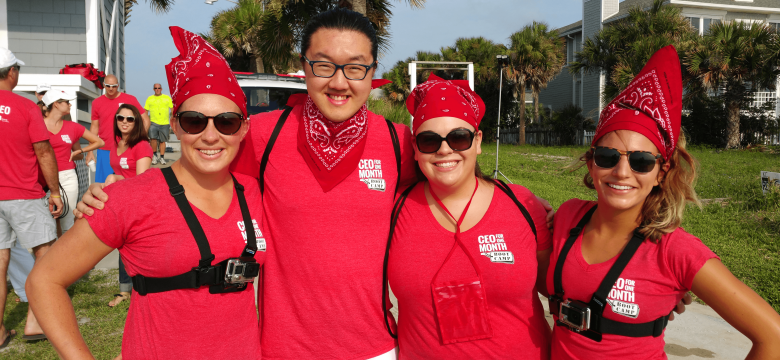 Imagine this: you've just been selected for a once-in-a-lifetime business opportunity. You've caught a plane to a new location with a suitcase filled with a variety of clothing—that's right, not all of the challenges take place in a board room!—and it's here; the big day. You're in a waiting area along with five other nervous contestants, and one-by-one they take you up the elevator to what you assume must be the headquarters.
Where are you, and what happens next?
If you guessed you were just cast in The Apprentice or Shark Tank, I'd say you were close. But, if you morph the two, add in some twenty-somethings who must, in a matter of a few days, sell themselves and their potential to a team of very influential leaders of a Fortune 500 company, then you've hit the nail on the head.
It's the Adecco CEO for One Month program.
I don't want to ruin too much of the surprise for the next crop of Boot Camp contestants, but the CEO for One Month boot camp is unlike any other internship or program I've ever been a part of. The boot camp is designed to get you out of your comfort zone, tuned into your problem-solving abilities and unlock your creative spark. And most of all, it's supposed to be fun!
Whether a one-on-one with the CEO on the first day, a beach relay race or even selling a paper clip for a house, the boot camp experience was challenging, but so much fun. Each day featured activities and lessons that allowed every contestant to shine, and most importantly, learn!
One of my favorite activities of the boot camp came in the shape of a beach relay race (a big surprise coming from an athlete, right?) that ended up being so tough, the CEO and other members of the executive team had to jump in and help! Our relay quickly turned into an impromptu ocean dip, a welcome break on such a hot day and difficult course!
So, if you want to feel like the contestants on The Apprentice or Shark Tank—but without multiple cameras and millions watching—apply to be the next Adecco CEO for One Month today! This informative and wild ride is a once-in-a-lifetime opportunity, and the boot camp is something you'll talk about for the rest of your life!