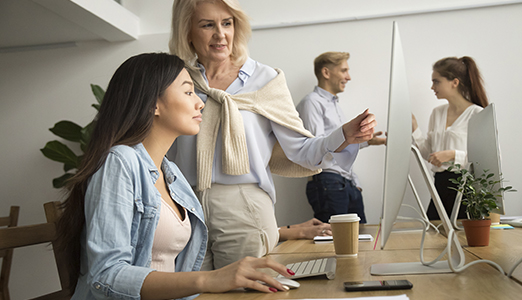 Apprenticeships are a time-tested idea that is getting new life as employers seek better ways to develop and keep talent.
In Italy where I grew up, and throughout much of Europe, apprenticeships have remained a staple of workforce development. In Switzerland, for example, 70% of high school graduates enter apprenticeships in "new-collar" fields such as IT, banking, healthcare, hospitality and advanced manufacturing. Upon completion, the vast majority are offered full-time positions with the companies that sponsored the apprenticeships.
Now, apprenticeships are gaining traction in United States as employers face a shortage of skilled workers and seek ways to prepare their workforce for the future. The U.S. Department of Labor is stepping up efforts to promote apprenticeships as a proven path to a more skilled and stable workforce.
Meanwhile, Marc Benioff, founder of Salesforce has launched a five million apprenticeship challenge aimed at boosting apprenticeship opportunities a hundredfold. And Adecco Chief Executive Officer Alain Dehaze highlighted the need for apprentice-style approaches, emphasizing that apprenticeships could help insulate younger workers against the growing threat of Artificial Intelligence (AI) eliminating jobs.
An important first step toward educating and encouraging greater adoption is to highlight what apprenticeships are not: Internships.
Internships are for undergraduate students where they learn specific skills and work experience required in a particular field or job, which may or may not be paid. Meanwhile, in an apprenticeship, the trainee undergoes a training in which all the skills required for a particular occupation or trade are being taught. The trainee gets hands-on experience while working with a skilled and experienced worker.
The US Department of Labor has stringent standards for registered apprenticeship programs to help ensure that the programs will successfully produce highly skilled workers who are prepared to compete in the global economy.
A Department of Labor registered apprenticeship program has five elements:
Direct business involvement, with the employer actively implementing the apprenticeship
On-the-job training with an employer mentor
Related instruction that supplements on-the-job training
Rewards in the form of progressive wages as skills increase
Completion resulting in a national credential
Each of the above areas is reviewed and developed by the partners involved in the apprenticeship program. Sponsors, who oversee the operation of the program, are provided for each registered apprenticeship.
Several funding options are available for companies participating in registered apprenticeship, including state, federal and local programs. Funding for apprentices may also be available through the GI Bill for Veterans, as well as Pell Grants or scholarship funds. These can be applied toward instruction, as well as leveraged for other portions of the program.
The Department of Labor offers a quick-start toolkit that lays out the foundation for a successful apprenticeship program. The toolkit provides resources to start and register an apprenticeship program, from exploring the apprenticeship model as a workforce strategy to launching a new program.
Apprenticeships are truly a win-win for employee and employer. The employee learns valuable and lasting skills while getting paid during the apprenticeship period. Meanwhile, employers get a skilled employee who can, over time, serve as a mentor to train others.
Apprenticeships may have an old-school reputation, but they offer new hope and opportunity for building the workforce of the future.