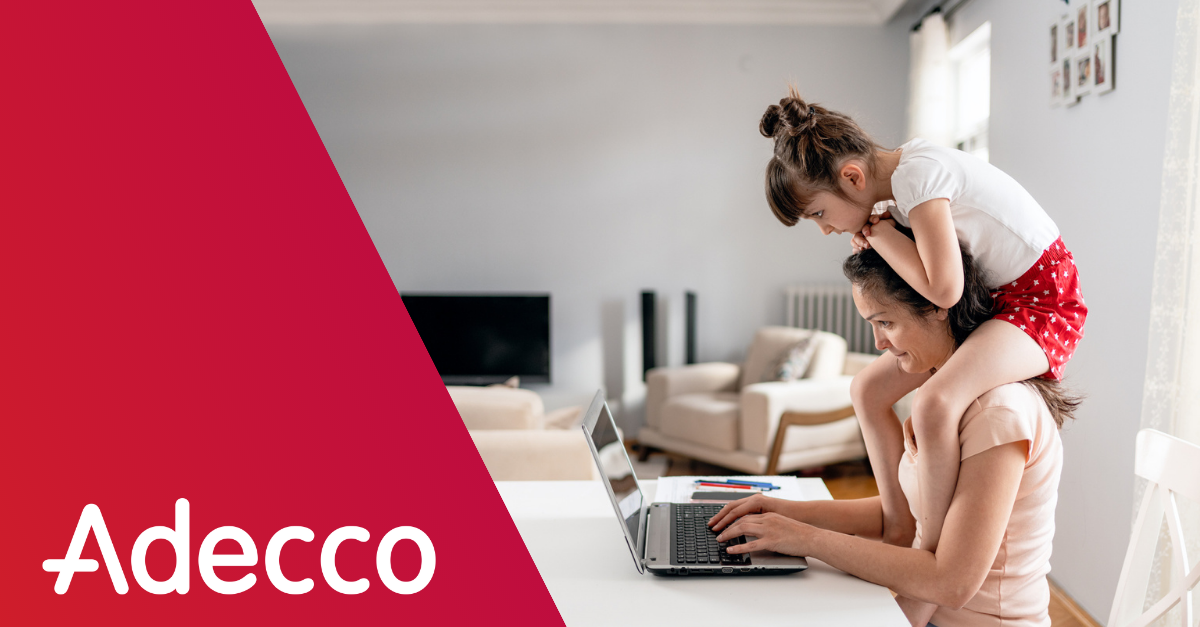 Why aren't you working right now?
5 million Americans say there's one big reason: They're caring for children who aren't in school or daycare.
Frequent COVID-19 outbreaks are creating unexpected school closures and quarantines – and 80% of daycare centers report that they're struggling to find enough child-care workers.
And the resulting juggling act for parents has hit their careers hard. Families are getting frazzled, and many women's careers are being put on pause (Nearly 1.6 million mothers have left the American workforce in the pandemic era, leading to the lowest female participation rates since the 1970s). In turn, employers are finding it harder to hire and retain talent.
At Adecco, we believe the pandemic is an opportunity to reimagine work, and part of that is rethinking that elusive work/life balance. Below, learn what employers can do to attract and retain working parents.
Instill a family-friendly culture
Reduce stress and anxiety for working parents by ensuring your managers have the right mindset. Refocus their thinking on the value working parents bring to the table, including adaptability, leadership, and empathy. Supervisors can be more understanding of disruptions caused by sick children and daycare surprises (which are often causes of absenteeism and turnover). If you can, consider offering stipends for daycare or educational expenses. And – crucially – make sure employees exercising these benefits don't face stigma or other barriers.
Meet parents where they are
Avoid making assumptions about what you think is best, and let parents take the lead. Make sure they feel comfortable telling you what accommodations work for them and which ones don't by conducting listening sessions and anonymous surveys. When employers let parents decide what they can take on, they can stop the vicious cycle that can stunt parents' career growth or cause them to stay out of the workforce altogether.
Measure performance on results, not hours
In workplaces where staying late is more important than the work getting done, parents can really struggle. Establish meaningful performance metrics based on merit, not hours. Discourage presenteeism and 'busy metrics' that could exacerbate burnout and turnover. These types of expectations can leave parents labeled as not committed or excited about their jobs. In turn, they can miss out on big projects or opportunities to advance their careers. Again, this is another area where employers can step up and make an effort to create pathways for parents to advance and grow in their roles.
Rethink location
Parents tend to make location decisions based on school districts, housing costs, and their neighborhood or community. On the other hand, employers may prefer big cities or major industry hubs, but these may be precisely the districts working parents would rather avoid. While incentives like relocation packages only work for those with the flexibility and freedom to relocate geographically, opening up to more hybrid or fully remote positions can be key to getting fresh and committed talent.
---
At Adecco, we believe a diverse and welcoming workplace is key for every business's long-term success. For more insights on the complex, unfolding issues shaping our working world, download our research paper, Resetting Normal: Defining The New Era Of Work.
взять кредит в банке онлайн заявка