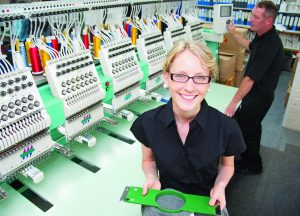 This week marks the beginning of Trump's "Made in America" campaign, which aims to promote goods made in America by Americans. Following an executive order back in April of 2017, the week refocuses Americans on the Administration's agenda and reinforces the importance of adding jobs to the labor market. Putting 'America First' in this manner is a bid to create more jobs in manufacturing, which would trickle down the supply chain as warehousing, wholesalers and distributors are expected to benefit from increased U.S. manufacturing. So, how will this initiative impact the jobs industry and American businesses?
'Buy American'
The order will not take immediate effect and agencies in the Executive Branch must assess the possibilities, identify any issues and suggest how to implement policies effectively. Reports from each department are expected in mid-September or 150 days from the release of the executive order. A process for waivers is also included as is the identification of trade agreements that are not beneficial.
Industries identified in the order include iron and steel, with "Produced in the United States" specified for all manufacturing processes including smelting and coatings. This order could tie in well with the president's plan for a $1 trillion investment in improving U.S. infrastructure, which would increase the demand for materials manufactured or produced in the U.S.
Expanding Manufacturing
In 2016, the U.S imported $4.7 trillion in goods with exports totaling $4.2 trillion dollars, with a trade deficit of half a billion dollars. What industries could increase manufacturing to reduce imports?
Stats from Census.gov for January and February of this year identify several industries that are capable – in terms of workforce and locally sourced materials – to manufacture right here in the U.S.
Automotive is an obvious one, with vehicles, engines and parts imports totaling $29 billion in February. Imports of iron and steel products and raw materials came to almost $3 billion. The textile, footwear and furniture industries combined (including cotton, machinery and finished goods) imported more than $10 billion dollars in February alone.
There are many other examples where Americans say "we can do that," such as beer, computers, cellphones, private planes, toys, paper products and pharmaceuticals.
What can businesses do to prepare?
For manufacturing to increase, businesses ought to reduce outsourcing to countries where labor costs are low and focus more on the long-term gains associated with job growth here at home. As manufacturing volumes increase, thanks to automation and mass production, the unit cost per product will decrease in the traditional manner. In a recent story in The Street, 57 percent of Americans indicated they are willing to pay extra for local products, which means the cost implications may be less significant than businesses anticipate.
With U.S. regulations and compliance laws helping to ensure quality control, American-made products are sure to find a home in other markets, especially among major trading partners like China and Canada. As noted previously, any increase in manufacturing capacity creates additional jobs further down the supply chain, whether in warehousing for distributors and wholesalers or in retail, not to mention an inherent capacity for growth as order volumes increase.
Preparing for a possible growth in manufacturing presents a challenge for manufacturers, especially when it's impossible to forecast when and if changes will actually occur.
How can you future-proof your business? You may not need any more full-time staff now, next week or even next year, but that doesn't mean you can't prepare for a time when the economy demands more from your business. Consider an apprenticeship program where you train entry-level employees in your business' most critical functions. Young, recent grads may not have the necessary skills or experience right out of school but think of them as impressionable clay that you can mold into the shape you need. Partnering with local community colleges or trade schools is also a good way to ensure the skills your business demands are being cultivated today to meet the needs of tomorrow.
Businesses must incorporate an optimal mix of full-time and temp workers to ensure their workforce can ramp up or trim down to accommodate the ebbs and flows of an uncertain economy. Working with a staffing company to create a pipeline of qualified and vetted temp workers is a good place to start.
There is still a lot of uncertainty surrounding how Trump's executive order and supporting social campaign will actually impact American manufacturing and bleed into the related industries, but one thing is for certain: the companies that will fare best are those that are agile and adaptable to forces beyond their control.