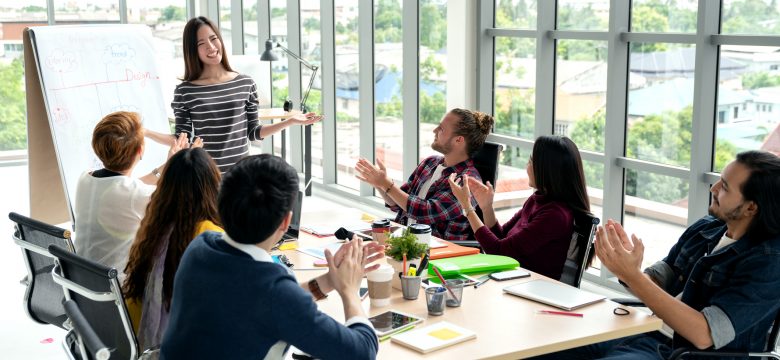 According to a blog published by 7Geese last year, only about 33% of the U.S. workforce is engaged in their work. This number is quite alarming — more than half of the population is not engaged with their work, and thus not reaching their full potential.
In some case this translates into fewer sales than expected, a lack of motivation, or hours of productivity gone to waste. Whatever the case may be, incentive programs have seen some great success in the last few years and have helped improve employee motivation and initiative, as well as increase the financial returns. In the workplace, this is often know as "gamification". Gamification helps boost employee motivation by creating friendly competition among employees who are all striving to reach a main end goal. We'll show you how and why introducing gamification into your workplace culture is important for employee performance.
What Is Gamification?
According to Badgeville, a leader in this space, gamification can be defined as "the concept of applying game mechanics and game design techniques to engage and motivate people to achieve their goals." Basically, it means applying gaming elements to non-gaming applications.The idea behind gamification mechanisms is to leverage people's natural behaviors such as:
Competition
Achievement
Engagement
Influence
Collaboration
Gamification often takes the form of games, or incentives, that help motivate employees and creates a company culture that is goal-driven and that rewards performance and fosters creativity and collaboration.
Gamification and Employee Motivation?
Some companies may decide to introduce a program that rewards and motivates employees who achieve certain goals. Some causes of lowered motivation in the workplace are:
Lack of progress
Poor communication
Lack of performance reviews
Boredom
Businesses that provide training sessions may choose to make learning more fun by applying a few game concepts and engage their employees in the process. Marketers and sales representatives have been using many game concepts (thus the name "gamification") such as badges, awards, and reward points to increase engagement with their products, content or events. The workplace is no different, and employees usually respond well to the challenge.
Examples of Gamification In The Workplace
This massive list of gamification case studies further proves the effectiveness off a defined and well-designed incentive program that employs gaming theory and techniques at its core.
Many successful enterprise companies have used gamification to improve workplace morale:
Microsoft – Communicate Hope. Created to encourage increased user feedback during the testing phase of a product. Leaderboard engagement is tied back to a chosen charity.
SalesForce – Nitro. Users can see a new menu item labeled Nitro that provides key elements in gamification: points, badges, levels, leader boards, and real-time feedback mechanisms.
How To Gamify Your Employee Recognition Program
Gamifying an employee recognition program can yield incredible results, but it is crucial to understand the goals you're trying to achieve with such a program. Is it to increase productivity? Celebrate each other's achievements? Improve communication? Some gamification examples include:
Awarding your best sales representatives with badges
Using a point system to motivate low performing employees
Quizzing to test and reward knowledge of vital job function information
Key Takeaways
To put it simply, you need to be engaging your employees whenever possible. Low motivation levels in employees can be boosted with the right tools. When creating your gamification program, remember to identify the key natural behavioral areas such as achievement, influence, and competition. Keeping these in mind will have you on the right path to reshaping your workplace culture!