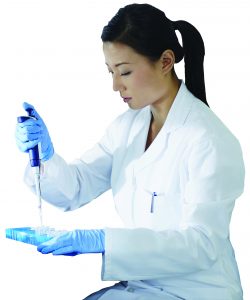 With the holidays approaching many of us will be looking for the perfect gift for that future scientist in our lives. Consider us your personal shopper as we've researched hundreds of toys to find the best gifts with excellent reviews. Below are our top three picks for each stage of childhood that your future scientist will be sure to love.
Babies & Toddlers (Birth to 3 Years Old)
These wooden blocks give a scientific spin on a classic toy. Stacking blocks is an important milestone for children, and while they're learning the basic concepts of gravity and balance, they can also get familiar with the periodic table. Each colored block contains element images with the name, atomic number and symbol.
Stacking sets are great for babies to develop motor skills and hand-eye coordination. This ring set consists of different sizes and colors, but also includes a variety of textures to touch and explore. These soft rings are stackable any way you like so babies are free to explore and build their own unique structures.
You can help your child learn simple physics with this unique bath toy. This toy teaches the water cycle and gives kids an understanding of cause and effect by letting them fill it with water and watch it rain.
Children (3 to 12 years old)
Instead of worrying about potty training a new puppy, give your child Dash – a real robot that teaches them about programming and the science principles of problem-solving and experimentation. They can learn to make Dash dance, race, light-up, make sounds and react to their voice. It comes with hundreds of preloaded missions and the ability for them to program new ones so it's always fresh and exciting.
This science microscope is a perfect gift for the junior scientist. Kids are able to take a closer look at the objects in their world and learn more about them with this tool that has a 300x, 600x and 1200x magnification and powerful LED light. The set also includes bottles, tweezers and slides so children can collect and analyze objects and insects and record their findings.
This kit teaches children about electronics with parts that snap together allowing them to build over 300 science projects. It includes a manual with colorful pictures that instruct them on how to build things such as a radio, burglar alarm, doorbell and more.
Teenager (13 to 18+ years old)
This set teaches chemistry in a hands-on approach with over 333 experiments. It covers chemistry basics and advanced topics, such as chemical equations, the periodic table, elements, compounds and atomic structures. These concepts are essential to the continued study of chemistry.
This is the ideal gift for future scientists, engineers and programmers. This set includes 550+ elements with everything you need to create your own robots, including interactive servo motors, remote control, color sensor, touch sensor and infrared sensor. Building instructions for 5 robots that you can create and command are also included. This toy builds a stronger foundation of science by enhancing their skills of measuring, counting, organizing and problem-solving.
Cozmo is a robot that has a personality that evolves and changes the more you play with it and can express real emotions in response to your actions. This robot is a great sidekick for you child since as he plays games, learns, plots, plans and even gets grouchy if you ignore him for too long. Your child and Cozmo become scientists together by exploring and experimenting.
Science toys are all about hands-on learning which is great for development. These toys combine learning with fun and help foster independent thinking. Is there a great toy that you think we should add to our list? Let us know in the comments below.