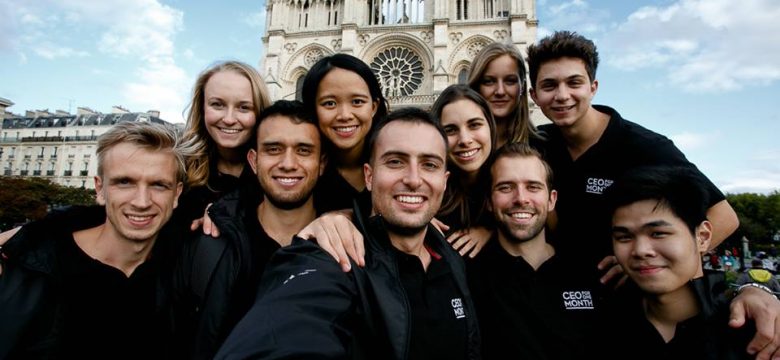 "What did you do this summer?"
As I settle back into school this year, I'm having difficulty answering this question. Because really, I start by saying "I was the CEO for One Month at Adecco USA."
My summer led me to ten cities around the United States – even to Paris—while being at the forefront of a Global Fortune 500 company. A summer where my voice was not only heard but encouraged by passionate leaders from all walks of life who encompass a downright impressive organization.
From here I go on to talk about my amazing journey – from my first week in Atlanta, all the way to my last day in Paris. Yet, while the experiences are captivating and alluring, I think the true value comes from the lessons extracted from those experiences.
If the shoes are too big, wear them anyway.
Most companies don't let 18 year olds into the core of their operations. Which unfortunately – or as I see it, fortunately – meant there was no manual or guide for me to follow. I was anxious and nervous every day. But more than that, I was excited for the crazy opportunities I knew would be thrown at me. Sometimes fake it until you make it is the only thing you have to go by, so if you don't fit into the shoes yet, don't stress, just utilize every opportunity you're given to grow into them.
Be authentic. Be genuine. Be you.
This is the most important lesson I learned. While faking it until you make it is an important step, it's also necessary to truly express yourself for who you are. Being authentic and genuine helps you to build deeper connections with those around you, and is the best way to develop the core of who you are.
It's all about people.
One of the most impressive aspects of my journey as CEO for One Month were the people I met along the way. From the new employees all the way up to the twenty-plus year veterans, The Adecco Group has a way of recruiting, building, and maintaining top talent. These people aren't just great at what they do, they are great at how they do it: helping to grow others along the way, and taking risks on the next generation. Being in an environment such as this showed me the importance of connections, and I encourage you to go above and beyond to meet any and every one you possibly can.
Get scared, fail, and try again.
When I landed in Atlanta on Day 1, I was absolutely terrified. I had no idea what I was going into, not even a plan for how to introduce myself to the team. Luckily, I had week over week of trial and error (and even more errors) to learn and grow: transforming the way I interacted with each team and teaching me valuable lessons along the way. As cliché as it sounds, stepping—perhaps rather living—outside your comfort zone is the best way to grow. And the way I see it, if failure leads you to some type of lesson, it's just a success in disguise.
Follow these links to learn more about my journey to places such as Wyoming, Phoenix, Louisville, Miami, New Hampshire, and New York City! For more on my time in Paris, click here!