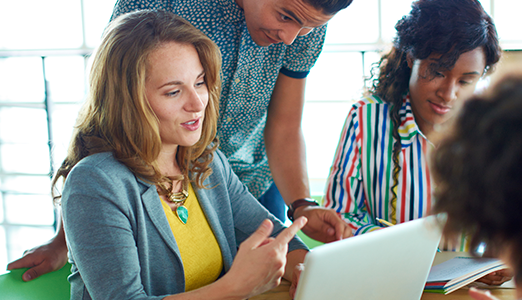 Work friendships are important – they're a reason to be excited about coming into work, and that close collaboration can even help you to do a better job. In fact, two-thirds of women in a Gallup poll said, "the social aspect of a job is a 'major reason' why they work." 
However, the environment changes dramatically when you become the boss. Transitioning a relationship at work is difficult, especially if you are close friends outside of work. The line between professional and personal is suddenly much harder to navigate.
By using the foundation of those personal relationships to build a strong professional one, you can keep a fun, dynamic atmosphere in the office. To help you navigate this tricky situation, we sat down with some of our leaders to discuss their personal experiences.
"Everyone's experience is different," Marketing Director Hilary Jarman explained, "because relationships are so varied and dynamic. But, at the end of the day you have to realize what the relationship is and what it needs to be." She says to look objectively, be honest, set expectations, and define boundaries.
When asked what her biggest challenge was after moving into a leadership role, Jarman's answer was self-doubt. "There is a new level of detachment and isolation (which is a strong word, but it's definitely there) and it's hard because you have self-doubt."
What would Jarman recommend doing in response to this self-doubt? "Make decisions with confidence, navigate the wrong decisions with grace, and just figure it out." For her it was less about the people and more about the management transition.
According to Jarman, there is no one-size-fits-all formula for any kind of transition in the workplace. "You have to set a direction and a tone, then stand to it. You may have to work twice as hard to maintain relationships because there is no longer an organic development between two people. You have to redefine your relationships around a new set of rules."
Just because a friendship may be harder to maintain doesn't mean it doesn't hold great value. When employees feel their supervisors care for them and that their opinions matter, employee engagement increases significantly.  But don't just take our word for it – according to Gallup, up to 70% of variance in employee engagement scores can be attributed to managers.
Courtney Padgett, Vice President of Sales Engagement, says giving honest feedback to her co-workers is what made her most nervous about being the boss. "Giving feedback was hard especially when it wasn't necessarily positive."
Padgett says "weekly one-on-one meetings have been really constructive because they allow for open dialogue and honesty. We talk about what's working and what's not. The regularly occurring meetings provide a space where I can talk with my team members, see what they need from me, and clear up any miscommunications when they do arise. But always make it a collaborative conversation, not just 'Hey, this is what you need to do.'"
She says building this relationship takes time, as "there was a lot of trial and error in my first two years – I didn't have anyone to show me the way, but being on the same page with everyone keeps expectations where they should be."
Padgett suggests this open communication to anyone going through this transition. In fact, before assuming her management role, she spoke individually with everyone on her team to establish mutual respect and discuss the transition. She was able to express her expectations and realize the expectations of others.
When climbing up the ladder, remember to maintain these established relationships. It makes for a happier, more balanced workplace and people are more willing to embrace you as their boss. Establish some boundaries, make the smart decisions, own-up to your mistakes, and be the honest leader your team needs.