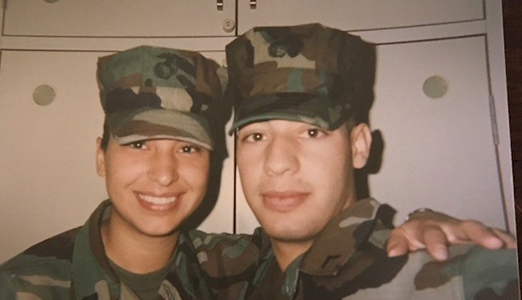 November is not just about giving thanks for plump turkeys, but it also gives the opportunity to thank our heroes. Leading up to Thanksgiving, we focus on the heroes across our country as it is National Veterans and Military Families month. The veterans, families and American service members that protect our country give us much to be thankful for.
As they support us, we try to support them. That's why The Adecco Military Alliance was created, to aid in the employment transition from active military status to civilian life, as well as supporting opportunities for military spouses.
We also celebrate the birthday of the Marine Corps on November 10th. Adecco colleague Michelle Carrasco served with the Marines for over eight years, and her spouse has been in the military for 20 years. She has been a recruiter with Adecco for the last four years, and was in fact hired by a military spouse as well! Here's Michelle:
"Working as an Adecco colleague has enabled me to support my fellow veterans, military spouses and civilians in finding employment. I bring a unique perspective to supporting the military community by being an active member of it. Many people don't have that support when looking for a job that fits the needs of service members. The fact that I was hired by a military spouse into a company with a program like the Adecco Military Alliance was a clear display of how important it is to have a network of support.
I joined the Marines in 1999, meeting my future husband at my first duty station in Iwakuni, Japan. We were married in 2001, and over the years welcomed three wonderful boys into our family. During that time, we were stationed in multiple locations across the globe, served in the reserves, achieved a bachelor's and I'm close to completing my master's degree.
I spent a lot of time volunteering as a spouse to help educate new military spouses about the lifestyle and hardships that we can face, which can become overwhelming at first. All families in the military are new to the lifestyle from the start, and I had the heart to ease the transitions of new spouses. I also assisted parents and children with the necessary skills they needed to successfully navigate military life.
In October 2014, when I was hired as an Adecco recruiter, my transition from the military back into the civilian workforce was different than I expected…somehow effortless! It felt as if I had never left, in part because of how Adecco employs colleagues and hires associates from many military backgrounds. Adecco was ready to support me just like I had supported my peers in the military, by helping me prepare for the civilian work I was about to start.
My experience has uniquely lent itself to a career in the staffing industry, my ability to create strong relationships and my focus on strategic planning has been critical to my success. I have built a strong network of various organizations, all the while enhancing the Adecco name within our military communities to provide a better understanding of what candidates need to fit their service lifestyle.
I have a passion for mentoring and empowering individuals. My education and training are a direct reflection of my beliefs and desire to help others be successful, both in life and work. If you're a veteran or military spouse looking for employment support, look no further than Adecco!"
The Adecco Military Alliance is our commitment to meeting the employment needs of military spouses and veterans. We're proud to feature stories from our colleagues and associates who have been involved with the program. Read how military spouse and Adecco colleague, Rachelle Chapman, honors her family, country and career.