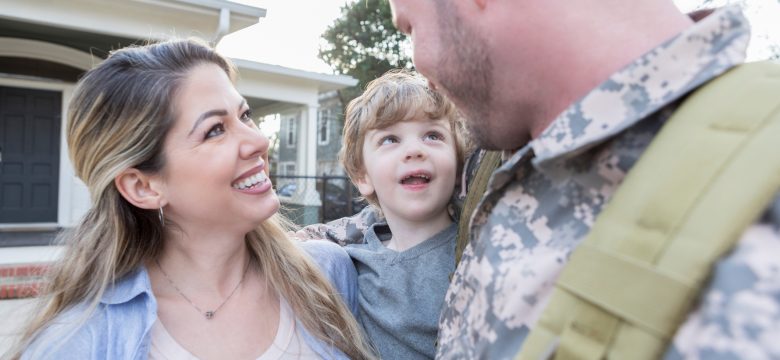 Choosing to become a military spouse sets you on a path of many obstacles, but along this path comes many joys. It demands professional sacrifices, the disruption of routine cross-country or international moves, and persevering through deployments and family separations. However it's also a life of adventure, deep friendships, and the pride of serving a larger cause. It's about learning to be a good neighbor and offering a helping hand to friends in a seemingly constant state of transition. Spouses enjoy seeing their active duty service member succeed, even though this very often requires sacrifices affecting their own career goals.
Typically, when unemployment is low—today less than 4%—it's considered a "job seeker's market." However, for military spouses, unemployment is always high, and even today it hovers at a whopping 25%.
Military spouses face many barriers when entering the workforce, and an unpredictabile lifestyle tops that list. An expectation of frequent moves leaves hiring mangers timid to hire them, even though the average tenure for any employee 25-34 years old is 3.2 years—about the duration of a standard military tour. So this is a bias that should be put aside. Despite being better educated than their nonmilitary counterparts, half of the military spouses who do work report being overqualified for their current job. Further, 27% of all working spouses are paid less than non-military spouses in the same job, the majority of whom are female.
Between pay gap issues and fewer opportunities, female military spouses experience the same kind of employment biases that women around the country face, but worse.
Here's what we are doing to make a difference.
For the past 17 years, Adecco has built the Adecco Military Alliance program. What started as a military spouse hiring initiative in 2002 has grown into a recruitment program designed to employ military families around the country and overseas.
We proudly recruit and hire military spouses because we know from experience they make excellent employees. Rather than seeing their unpredictable lifestyle as a liability, we understand it is a strength. Anyone who can manage change and uncertainty at home carries this adaptability to the workplace. We recognize that military spouses have a strong work ethic and an equally strong network. They are educated, diverse, and adaptable. We are lucky to have so many growing at Adecco.
We believe in making the world of work, work for everyone. Some of our military spouses benefit from remote job opportunities.
For Military Spouse Appreciation Day 2019, Adecco Group is partnering with Dress for Success and SRI to host our first "suit and salute" event. On Friday, May 10th we will welcome military spouses from the DC metro area at one of our offices. They will be professionally outfitted by Dress for Success and professionally career coached by Adecco Group business partner Lee Hecht Harrison.
Join us as we continue to increase job opportunities for military spouses and acknowledge them for their service! If you know a military spouse, please thank them for all they do. Happy military spouse appreciation day! #HireaMilitarySpouse