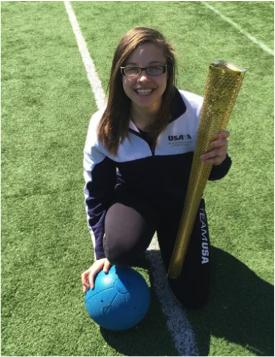 U.S. Paralympian Amanda Dennis has been playing Goalball since she was seven years old. Never heard of Goalball? Goalball is a team sport designed for people who are visually impaired. When she was just 15, Amanda got invited to her first US National Youth Camp. Amanda excelled in the sport and at 18 was selected to represent the U.S. at the London 2012 Paralympic Games.
Today, Amanda is in Rio ready to compete in her second Paralympics. For the past year, Amanda has been working full-time in the Athlete Career and Education program for Adecco as an Olympic Activation intern for Coca-Cola. As her internship wrapped up, she secured a part-time position through ACE at DICK's Sporting Goods which has allowed her to move to Portland, OR and practice with her team.
Many people aren't familiar with the sport of Goalball. Tell us a little bit about it?
Goalball is played by athletes who have a visual impairment. The court dimensions are about the same as a volleyball court. Each player on the field is blindfolded to equalize the playing field. There are three players on each side of the court at once. The positions include left wing, right wing, and center. Each line on the court is also tactile so players can orient themselves while playing.
The game is played with a 3-pound ball that has two bells in it, so that players can track the ball by hearing it instead of seeing it. The ball travels at 30-MPH in elite level competitions, and the objective of the game is to block the ball by hearing it, and offensively be able to throw the ball into your opponent's net through using speed, power, and accuracy.
What position on the team do you play?
I'm a very versatile player. I play all three positions, but on Team USA I play the Center position.
What are the top traits an athlete must exhibit to succeed in Goalball?
Goalball is as much of a physical game as it is a mental game. Physically you need to be fast both on defense and offense. You need to be able to use your senses or spatial awareness while tracking the ball. You have to be disciplined to have good technique, and overall, you must be powerful in all of your movements, whether it's blocking or throwing. The mental aspect of the game is also important. You are basically putting trust in not only yourself, but your teammates as well because none of you can "see" this ball that is flying at you. They say that if you believe in yourself, you're halfway there, and this is something that holds true in goalball. It's easy to determine what side the ball is on, but you really need to be determined and believe in yourself wholeheartedly in order to be successful at blocking the ball.
You recently just finished a one-year full-time ACE internship through Adecco with Coca-Cola. How did this experience prepare you for the future?
My experience at Coca-Cola was amazing. It's definitely helped shape me both as a person and an athlete. There's a ton of things that you see through work that also relate a lot to your sport. For me, I walked away with these key learnings:
Do something you love!
Your ability to bounce back from bad situations is what makes you strong!
It is OK to make mistakes!
Setting and achieving goals is an important step in sports, school, and life!
You are never too old or too knowledgeable where you will need to stop learning!
Together Everyone Achieves More (WE ARE A TEAM)
It's different to walk into a corporate environment when you've been training and going to school your entire life. It's almost a little bit scary. I walked away from this experience with not just a holistic career experience, but better communication skills, better organization skills, experience at helping run a startup project, and ultimately KNOWING that I can do anything if I put the right amount of time and effort in.
What project are you most proud of that you completed in your internship?
I worked on many projects, but the one I'm most proud of is managing a crowdfunding platform specifically geared towards Olympic and Paralympic hopefuls who needed extra money to qualify and train for the Rio 2016 Olympic and Paralympic Games. I have a real affinity for this project, because as an athlete, I don't have thousands of dollars of funding to go to tournaments every year, nor do I have unlimited expenses to spend on a personal trainer or coach. I have to pay for all of these things out of pocket, and most people don't realize that most members of Team USA don't have the large financial sponsorships from big name brands.
What are the biggest challenges you face in the workplace being visually impaired?
In the workplace, it was hard to recognize the small detailed things that people pointed out to me. Coca-Cola is huge on marketing to everyday people. Creativity, design and making visually appealing presentations are important. My vision is about 20/200, (which is about 10% remaining vision). I can see almost everything that is happening in everyday life, but it's very hard for me to see blurry photos or misaligned pictures.
What advice would you give an employer that might be hesitant when considering a candidate with a disability?
I would tell them that they would be very surprised to discover what someone with a disability can do! There are different ways to make accommodations in the workplace that are easy and do not take much extra time. If you spend an extra few minutes with that individual, they can usually tell you how to accommodate them better; whether it's sending them presentations early or explaining a task to them more clearly.
What is it like to juggle a job while preparing to represent the USA on the world's largest stage?
Juggling my busy schedule was actually harder than I thought it would be. When I went the London Paralympic Games, I had just graduated from high school and had my whole summer free to train. I never really knew what it would be like to juggle so many different things at once. It was actually little stressful. It helped me prepare better to handle a lot, and that will help me on the court during the intense competition of the Paralympic Games.
What benefits do you receive from working a job while training?
At Coca-Cola I felt like I had a team behind me. Anytime I went to training camp or to compete, I knew I had the support of the people I worked with. Being that it is a Paralympic year, they were very understanding of my hectic schedule. It was a very supportive environment.
A lot of athletes don't get the opportunity to get a job while they are still competing. This leaves them later wondering "what's next?" I felt like it empowered me to have this job, because I gained experience in my professional career while I was excelling in my athletic career.
Team USA didn't come home with a medal in the 2012 Paralympic Games. What did you learn from this experience?
I learned more than a medal could have taught me. The experience from being on top to falling to the bottom was devastating. I learned that defense, teamwork, and relationships with others are what wins championships.
I walked away with the desire to be better than I was the day before, both as an athlete and in my personal life. The loss gave me motivation to not only promote Paralympic sport, but also a vengeance to come home and train harder, so that we can come back and show everyone why the U.S. won gold at the 2008 Paralympic Games.
Congrats to you and your gold winning performance in this year's World Championships beating Japan, Brazil and Russia. Does this make Team USA a favorite to reach the podium in Rio?
We've placed in the top four at each of our international tournaments this year, and every year since 2012. We are determined to reach a podium in Rio, and more importantly hear our national anthem being played. This year we have been really focused on gaining experience against the other top teams. Now that we know how each team plays, it's our time to gear up and work on our weaknesses to make them our strengths.
For the first time Paralympic medals have a new innovation that was just revealed. Can you tell us about it
Rio 2016 has incorporated an audible feature into the medals for athletes like myself who have a visual impairment. This feature lets you distinguish between a gold, silver, and bronze medal by the noise that the medal makes. A gold medal makes a louder sound than silver, and silver louder than bronze. It's a very cool idea.
How can fans follow you in Rio?
You can follow our Road to Rio via: USA Women's Goalball on Facebook: https://www.facebook.com/USAWomensGoalball/?fref=ts
You can also follow me on Instagram and Twitter: @Dennisamanda7
Amanda, we wish you the best of luck making it to the podium with your teammates in Rio!   Everyone in the ACE program and at Coca-Cola will be cheering you on. Go Team USA!
Did you know? Goalball requires silence in the stands during the game so players can hear the bells in the ball and the officials' instructions. However, during half-time and when a goal is scored, fans can shout all they want!