Sports will Keep us Together
With the Rio 2016 Olympic Games before us, I've been daydreaming about being an elite athlete competing on the world's largest stage. Unfortunately, I am not a world-class athlete. Still, the power of sports touches me. I love sports because they keep me connected to family and friends. Captain & Tennille once sang, "Love….Love will keep us together." In my world, "Sports…Sports will keep us together."
Sports tie my worlds together; whether it's watching our 5-year-old niece score a winning goal, binging on March Madness with friends, or joining the work softball team. It brings me closer to my network and teaches me how to be competitive while supporting others.
What the Olympics and Football have in Common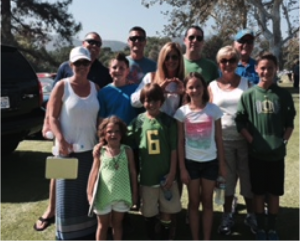 On August 5th, the opening ceremony of the Olympic Games begins! On that day, I encourage you to gather those close to you, tune into Rio's celebration and cheer on Team USA. Why? I believe the world of sports can have a powerful impact on the way we connect to each other. For my family, it's college football. During the season, my husband was able to get both of his brothers and their families to attend the Oregon vs. UCLA football game. My niece and nephew became instant fans, connecting our fandom across generations. It's a day we still talk about. As I watch sporting events transform the energy of family reunions and birthdays, I can't help but look forward to the Olympic Games.
I cherish time I spend with my family through the platform of sports. No matter our differences, it gives us all something in common to root for. It has taught me that sports have the power to inspire and bring people together while building a stronger, more vibrant community.
The Power of the Games
No sporting event exemplifies that spirit of vibrance, strength and togetherness more than the Olympic Games. It inspires all of us to go the extra mile, give 100%, and never to give up on our dreams. This event only occurs every two years. Athletes spend a lifetime training and we are a mere month away.
Regardless of the current politically turbulent times all over the world, for 17 brief days, Americans will come together as one U.S. Olympic family to cheer on Team USA. We get to watch Team USA pour their hearts and souls into one of the world's greatest traditions. No one makes it to the podium alone. These athletes have the support of their family, friends, coaches, training partners, and country. I know my family and friends will come together to support them as the world is watching. I can't wait to cheer on the victories and agonize over the defeats while making memories for years to come.
That is the power of sports. #GOTEAMUSA #HIREARINGER
Learn more about Adecco's quest to use the power of sports for good via the Athlete Career and Education program.