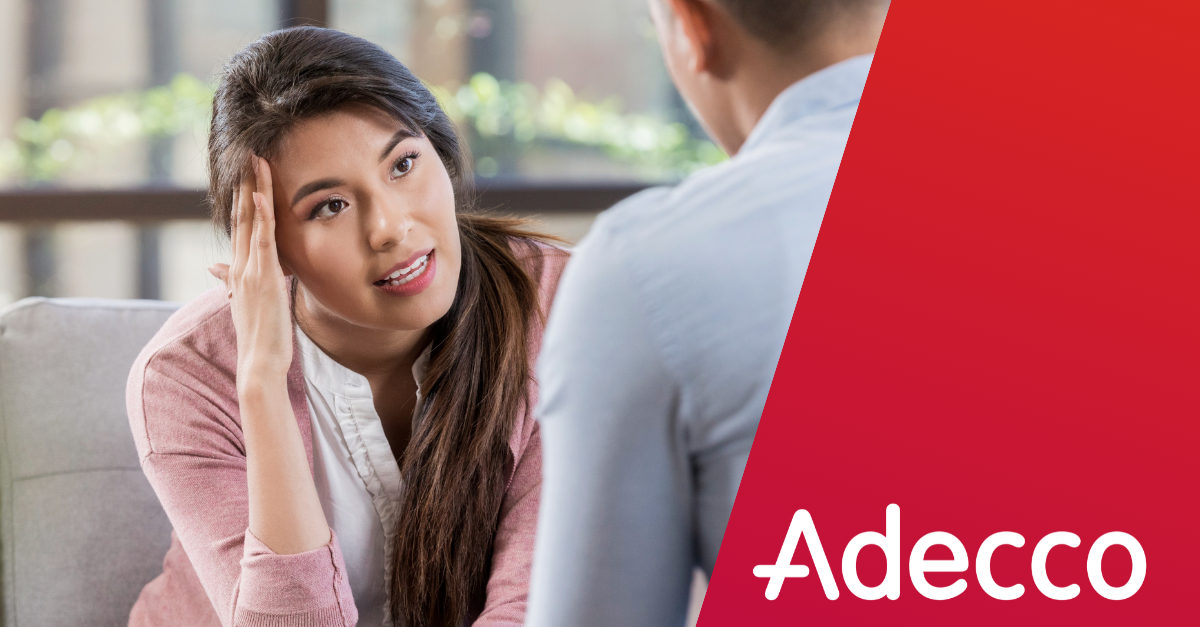 Overwhelmed, overworked, and overscheduled. If you're not already prioritizing mental health needs of your workers, the time to act is now. Beyond the impact to your employees' physical health (dramatically increased risk of stroke, fatal heart disease, substance abuse, and more), the costs for employers include high turnover, absenteeism, poor customer care, and declining organizational performance. Alarmingly, research shows that burnout can be contagious, impacting entire workforces.
According to just released Adecco research, 32% of workers globally said their mental health deteriorated in the last 12 months, while 4 in 10 said burnout is a significant cause for concern. And compounding the risk, 53% of all managers said they have not found it easy to identify when staff may be struggling.
Even small, subtle culture changes can have an outsized impact on your employees' wellbeing. Here are four common-sense steps you can take to promote wellness among your workers (and consider sharing our tips for employees to avoid burnout):
1. Normalize mental health in your workplace
Acknowledging that mental illness is just like any other physical condition can make it easier for employees to bring up the challenges they're facing. Warning signs like lethargy, cynicism, and absenteeism are more likely to go unnoticed in virtual or hybrid environments. Without daily in-person interactions to see facial expressions and body language, managers can struggle to spot emerging problems before it's too late.
Make sure your leaders proactively send the message that your workplace is a safe place to talk openly. Consider leadership panels and group discussion circles where leaders share their personal experiences and advocate for self-care.
2. Meet people where they are
Leaders play a huge role in building a culture that supports inclusion and compassion. Mental health is fluid and can fluctuate as circumstances change. One person may be overwhelmed today, fine tomorrow, and struggling with unbearable anxiety the next week.
Remember that millions of Americans are dealing with financial struggles or personal grief in the pandemic's wake. Some employee populations are more vulnerable to risk factors than others: Parents are shouldering the tremendous burden of school and daycare closures. And communities of color are at heightened risk because of larger challenges accessing mental healthcare and higher COVID hospitalization rates.
3. Reach out to remote workers
With the abrupt decline in face-to-face contact, it's easy to forget how important we are to one another at work, setting the scene for feeling disconnected, a precursor to mental ill-health. Leaders can implement strategies to build social belonging, like buddy systems, mentor networks, and peer support groups. Find ways to talk more often, share more often, and ask questions that encourage employees to open up. Younger workers are at a particular risk of feeling stressed and isolated in today's environment. Even something as simple as starting online meetings with five minutes of non-work-related small talk can increase feelings of connectedness and give leaders better opportunities to spot looming mental health problems.
4. Make healthy work-life balance a non-negotiable
Long working hours are a huge occupational health hazard. Yet, in America, many take pride in consistently working hours that the WHO considers dangerous. The US has been dubbed the 'no vacation nation' in stark contrast to places like the EU, where employees are entitled to a minimum of 20 days. Leaders must encourage self-care by instilling a culture of ample rest breaks and downtime (and by not glamorizing long hours). Stepping away from the daily grind helps employees recalibrate their perspective and often leads to the best ideas and innovations.
At Adecco, we believe the pandemic is an excellent opportunity to build a smarter and more purposeful workplace. For more insights on the complex, unfolding issues shaping our working world take a look at our freshly launched research Resetting Normal: Defining The New Era Of Work.
And why not share our guide to mental health at work with your employees?
займ на 30000 рублей на карту 1 год