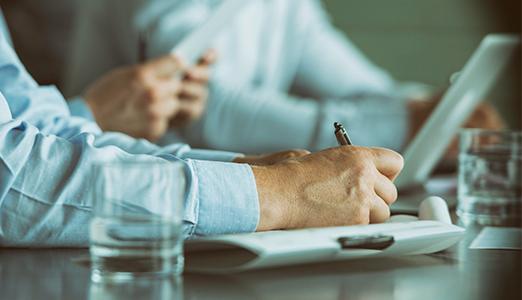 In today's job market, where unemployment is low and good talent is scarce, Best-in-Class companies are doing everything they can to retain their top employees as long as possible.
To measure the success of their retention efforts, we partnered with The Aberdeen Group for the second year in a row and spoke with over 575 C-Suite executives about their current workforce environments, management tactics and more.
The first thing we wanted to know was how long employers would like to keep their employees: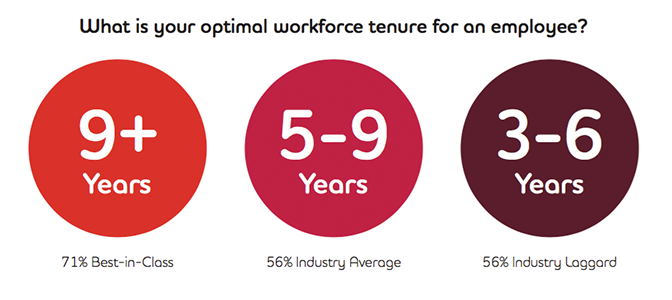 Today's Best-in-Class companies had the longest optimal tenure for their employees at 9+ years. In order to get the most out of their hires, they believe their employees need to stay with their company 9 years or more.
Industry Average companies thought similarly, with 5-9 years listed as their optimal tenure.
The majority of Laggard companies thought 3-6 years was sufficient.
We then wanted to know if their optimal employee tenure matched their actual employee tenure: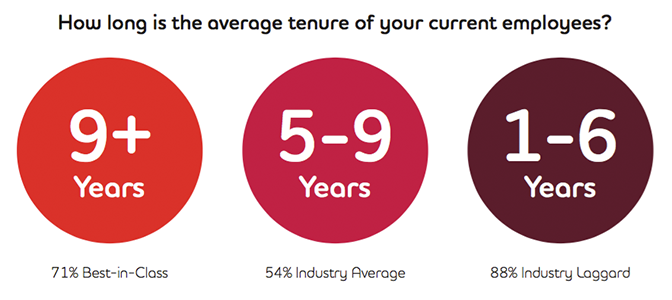 Best-in-Class companies optimal and average employee tenures are identical. They want their employees to stay with them 9+ years, and their employees do.
The same can be said for Industry Average companies, with the majority having their optimal and average somewhere in the 5-9 year range.
Industry Laggard companies are coming up short – their optimal employee tenure is in the 3-6 year range, but most of these companies are only able to hold onto their employees for 1-6 years. By losing their employees up to 3 years earlier than they'd like, they're getting a poor ROI on their hires.
So what are Best-in-Class Companies doing to retain their employees that Industry Laggard companies are not? From our study, we found that better pay, experimenting with "soft" benefits, and re-thinking succession plans are three keys to success.
1. Better pay
Nearly half of today's Best-in-Class companies are paying their employees above market average (45%), while the majority of Industry Laggard companies are paying below market average (51%).
To get an employee's POV on what's most important to them when it comes to their jobs, we partnered with the Levo Institute to speak to younger employees—the future of the workforce—what was most important to them when it comes to their jobs. A whopping 85% listed salary as their most important job factor. By paying their employees more, Best-in-Class companies are catering to what's most important to their workforce, and organically increasing retention. 
2. Experimenting with "soft" benefits
As part of our partnership with the Levo Institute, we also asked how younger workers measure their happiness at work. 72% said they consider work-life balance to be an important measure, and another 63% said they consider cultural perks such as casual dress and free food and beverages to be important.
Today's top companies are taking note, with an average of 40% offering similar – what we call "soft" – benefits, such as positive workplace culture, work/life balance and flexible/remote schedules to their employees. These benefits are low-cost ways to create positive, understanding relationships with your employees, not only making them more inclined to stay with your company, but also maximizing their productivity.
3. Re-thinking succession plans
40% of Best-in-Class companies no longer use succession plans. While that means the majority still do, almost half do not. In the last few years, top companies have been changing the way they look at their workforces and, instead of structured, five-year plans, they are providing employees more fluid, personal opportunities for growth and thereby succession.
77% of today's top companies believe Professional Development to be of importance in their employees' happiness, and 57% believe mentorships are important to their workforces. Best-in-Class companies haven't stopped planning for the future – they're just adjusting how rigid their succession structures are.