Rio in head, heart and spirit
Though I understand that the Olympic Games have ended, my heart is still in Rio de Janeiro, savoring Team USA's inspired demonstration of athleticism, grit and determination in the 31st Olympiad. As an Adecco ambassador, I enjoyed a rare view of the Team USA at the Games and an intimate view of Rio in all its frenetic hum and striking beauty.
In stadiums, hotels, and taxis, I relished talking to athletes, their families, Team USA leadership, organizers, sponsors, benefactors and volunteers about Adecco's support of athletes and our sponsorship of the United States Olympic Committee. Most of all, I loved interacting with Adecco associates in Brazil. (The entire Team USA store was staffed by Adecco!)
It was a perfect venue to connect people with the Athlete Career and Education program. Everyone I met was surprised to learn that US athletes need to work in order to train and compete, and they were thrilled that Adecco provides career coaching and job placement support to athletes; services that athletes who retire after competing in Rio are really going to rely on.
Throughout Rio each country represented in the Games maintained its own "house" where athletes, sponsors, family members and staff met. The USA house overlooked Ipanema Beach, one of the best-known destinations in the southern hemisphere. Despite its sweepingly cinematic rooftop views, the house's energy remained focused around the TVs, with fervent supporters crouching, springing and cheering Team USA on to victory.
I felt proud and giddy to be among the screaming fans at beach volleyball, swimming, canoe sprint, track & field events, and especially Team USA's basketball duel with Serbia. I wish that my daughter was old enough now to appreciate the drive, skill and poise of Team USA's women. (If Team USA's women had been a country unto themselves, they would have placed fourth in the final medal count!)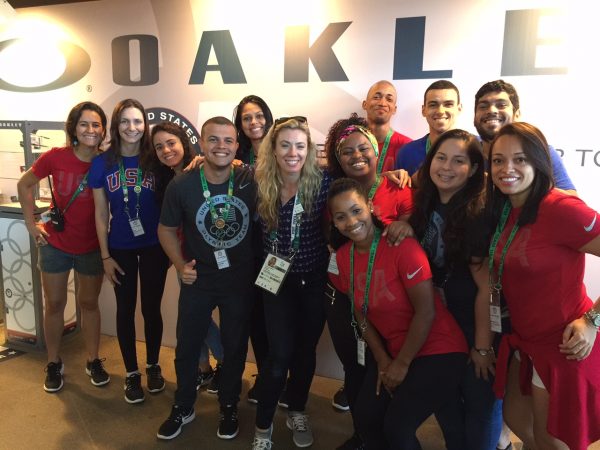 I rounded out my trip with a visit to NBC's Today Show and gave an Adecco Team USA pin to Hoda Kotb and Al Roker. Pin trading is a time-honored peculiarity of the Games, with sponsors, officials and fans trading pins of various organizations, and many jockeying for breadth and diversity of collection. I even got asked for a pin at the airport while I was going through customs!
Despite the doomsday prophets of our round-the-clock news cycle, I felt very safe in Rio. I was taken aback by the hospitality, kindness and generosity of the Brazilians and international visitors I encountered. Rio orchestrated a great Olympics and Brazil made history by being the first country in South America to host the Games.
In 2018 and beyond, whether I am huddled in the stands or nestled in my living room, I will never watch the Olympics and cheer on Team USA's athletes in the same way again. I am proud to stand with a company, Adecco, that stands by them. Go Team USA!
Don't forget to tune into the Paralympic games for for more inspiring feats of athleticism!