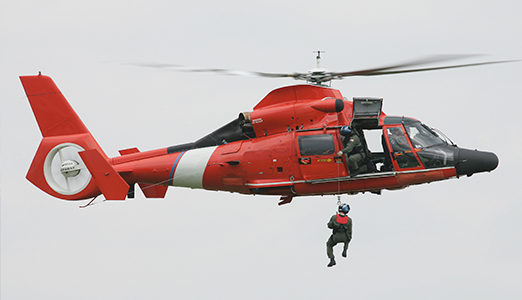 August 4th marks the birth of the United States Coast Guard, the branch of our military which has many unique characteristics that set them apart from the others. The Coast Guard is "always ready" (their latin motto: Semper Paratus), assuring maritime safety and security across the United States' exclusive economic zone of over 4.3 million square miles of territory. That's a lot of area to monitor! 
Given the continuous nature of Coast Guard operations, not all families are stationed at a major military base and connected to the resources available to those involved with other military branches. No base housing, commissaries, and likely fewer local businesses structured to support or familiar with the military community. It's a circumstance that creates unique challenges for the service member, but especially for their families who serve alongside in their own way. Many Coast Guard positions are stationed in tourist towns across the country, with economies that make finding traditional work for a spouse more difficult. Children also have to attend school in a town that isn't as familiar with the military experience. 
The challenges associated with finding work as a military spouse are a primary reason why the Adecco Military Alliance exists, and the benefits of working with Adecco are especially valuable in circumstances like the above. We have branch offices across the country in many areas outside the vicinity of a military base, so our program is the connection that can bring understanding of a military family's situation together with the solution of finding gainful employment. Upon submitting interest in the program you'll be connected with an Adecco colleague who will be familiar with your experience and likely a military veteran or spouse, themselves!
Families serving in the United States Coast Guard may move just as frequently as other branches of the military, with service members deployed just as often and within dangerous territories foreign and domestic. On this 228th birthday of the U.S. Coast Guard, we celebrate our appreciation for this important community of heroes and offer our support through the Adecco Military Alliance when tasked with the honor.
The Adecco Military Alliance is our commitment to meeting the employment needs of military spouses and veterans. We're featuring stories from our colleagues and associates who have been involved with the program throughout 2018. Read how military spouse and Adecco colleague, Rachelle Chapman, honours her family, country and career.