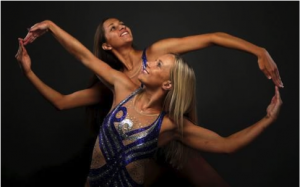 Mariya Korovela and Anita Alvarez will be the only two females to represent the U.S. in Synchronized Swimming at the 2016 Rio Olympic Games. Mariya represented Team USA at the London Olympic Games and hopes to better her performance with her new duet partner Anita Alverez in Rio. Recently we had the opportunity to chat with Mariya and Anita, both athletes in the USOC's Athlete Career and Education Program (ACE) as they were making their final preparations to compete in Rio.
Tell us a little bit about the often-misunderstood sport of synchronized swimming.
Mariya: I think people underestimate how much time goes into putting together our programs. The audience only sees the final product of 2 and a half to 3 and half minutes, but we have to train 8-9 hours a day for many months to perfect those routines. It's more than a full-time job! Synchro is a challenging sport partly because it involves so many different skills. Also, we can't touch the bottom of the pool!
Anita: A lot of people only see the makeup, glittery suits, and smiles… But people don't realize how hard it actually is and how much work and training goes into our routines. We train 8-10 hours a day 6 days a week. People say it looks easy, but that is the whole point! It is our job to make it LOOK easy, if we showed how tired we were…nobody would want to watch that and lifeguards might jump in the pool thinking that we need help!
What do judges look for when scoring Duet Synchronized Swimming?
Anita: The judges have a variety of categories that they judge us on, but obviously synchronization is a key aspect, which they watch for. They also look to see how high you get out of the water, presentation, choreography, interpretation of the music are also categories. Execution, artistic impression and level of difficulty are key elements.
Mariya, before you were  an Olympian, you had to face a challenging transition. You were born in Russia and emigrated to the U.S. when you were just 9 years old. What was that transition like and how did you cope with the challenges?
Mariya: It was a rough transition moving to an unfamiliar country and not knowing the language at such a young age. I had a hard time fitting in and making friends, and actually starting synchro helped me assimilate into the American culture. I think that was my first time having to face a big challenge. It certainly toughened me up and made me more resilient to other obstacles later in life.
Anita, you left your family, friends and high school in your junior year to move to California to pursue your Olympic dream. What was that transition like?
Anita: The transition was very hard for me at first. Especially only being 16 years old and moving all the way across the country away from my family and friends and everything and everyone I grew up with. By finishing high school online so I could train during the, but I did it to pursue my Olympic Dream that wouldn't of been possible if I stayed and trained at home. But I knew it was what I wanted to do and that it would all be worth it.
Mariya, this will be your second Olympic games. What is different this time around?
Mariya: I feel much more prepared for this Olympics – both physically and mentally. Last time around I was pretty injured and felt a lot of pressure going into the competition and now I feel stronger and more ready than ever to give it my all in Rio.
Anita, this will be the first time you have represented the U.S. on the world's largest stage. What are you looking forward to the most?
Anita: I am looking forward to competing alongside the best athletes in the world from all of the different sports.
The two of you train together on average 40 hours or more a week. How beneficial is it to have a flexible part-time job through the ACE program that works around your training schedule?
Mariya: It's really nice to be able to get a part-time job through this program. Working in my retail job has helped fund my training and I love the flexibility it offers. It's not easy to find jobs that fit with our training and traveling schedule so this was a perfect fit for me.
Anita: It is very important and we are so grateful for the opportunities the ACE program has provided for us. Training 48-60 hours a week and with all of the traveling we do all year it is very difficult to find a job that will be flexible with our intense schedule. But the ACE program provides us with just what we need to be able to train and work.
The U.S. did not qualify a synchronized swimming Team for Rio; therefore you two will be the sole female U.S. Synchronized Swimming athletes in Rio. Does this put added pressure on you?
Mariya: There's definitely pressure on Anita and I to perform well in Rio because we are the only ones representing our country in our sport. However, we are trying to just focus on improving every day and giving our best possible performance so that we can make all of our fans proud.
Anita: It definitely adds a little extra pressure… But I think it also makes it that much more special and exciting for us two. It's a big responsibility, but we are up for the challenge!
To my uninitiated eye, synchronized swimming seems to be a unique combination of extreme athleticism, amazing showmanship, learning how to defy gravity, and a lot of holding your breath. What does it take to become an Olympic Synchronized Swimmer?
Mariya: We have to be gymnasts, swimmers and dancers all at the same time. Our training includes speed swimming, weight training, ballet, Pilates and of course, synchro-specific training. We do a lot of different training in and out of the pool and it takes a lot of years of swimming to get to this level of competition. We devote our whole lives to this sport and often times have to put things like college on hold. We live the Olympic lifestyle year after year!
We viewed your 2015 World Championship performance and one thing we noticed was that your performance clearly starts out of the water the minute you take the deck. What is going through your head as you are walking up to the pool?
Mariya: I usually try remembering all of my corrections and focusing on the routine and trying to warm up my body as best as I can before we walk out. I try not to think about the gravity of the fact that I am about to compete in front of thousands of people because then I get super nervous.
What is your future career plans?
Mariya: I would like to work in the sports industry somewhere within the Olympic movement – whether it's for the USOC or IOC, one of the Olympic sponsors or for a marketing agency.
Anita: I am planning to continue training with the national teams…hopefully though one or two more Olympic quads. Soon, I will also begin taking some online classes while I train, and then eventually transfer over to university, where I am still unsure exactly what I want to do.
How can fans follow you during the games?
Mariya: My Twitter/Instagram/Snapchat handle is @mkoroleva and my Facebook fan page is: https://www.facebook.com/Mariya-Koroleva-189056637858846/
Anita: Follow me on Instagram/Snapchat @anitaaalvarez or on Twitter@anitaaalvarez12