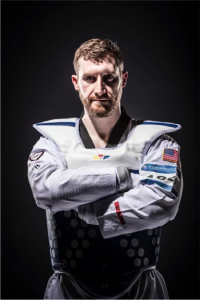 Texas native Stephen Lambdin began his Taekwondo career at age 5. At 14, he won the junior U.S. Nationals. Competing in the Olympic Games has been a lifelong dream for Stephen. That dream came true when he defeated 2008 Olympic silver medalist, Mark Lopez in a very close match at the U.S. Olympic trials. During his preparations over the last four years, Stephen has worked with Adecco in the Athlete Career and Education program. Adecco Career Coaches helped him get started at GE Transportation in a supportive role with the BNSF Railway Services team.
The sport of Taekwondo has a lot of history, can you tell us a little bit about your sport for those that are unfamiliar it?
Taekwondo is a Korean sport and martial art that roughly translates to "the art of hand and foot fighting." Starting as a demonstration sport in the 1988 Olympic Games, it became a full-fledged "core sport" in the Games in 2000. A taekwondo match is typically 3-two minute rounds, with a 1-minute break in between each round. You score points between 1 and 4 points by kicking anywhere above the belt. Point value depends on the technique and area hit. A spinning kick to the face will earn you more points than a kick to the stomach. It's like boxing, whomever has the most points at the end wins."
What are the top two challenges you faced making it to the Olympic level in Taekwondo?
I've had to overcome a lot of adversity in my career to get to where I am. I've had a laundry list of injuries including 3 sprained MCLs, 5 breaks in my hands, 2 ruptured Achilles tendons, 4 concussions, 3 broken noses, and more broken toes than I can remember. Numerous injuries are standard for anyone who competes at the highest level for an extended period of time. Like with most athletes, funding is a huge obstacle. Many of us on the National Team that have 9-5 jobs during the week and regularly run seminars, just to make ends meet. Up until 6 months ago, I'd worked for GE to fund the global travel it takes to qualify for the Rio games. Thankfully, my parents were able to help me cover the last few months. It allowed me to focus on going for gold this August.
While preparing for Rio, you have worked for GE Transportation with the BNSF service team. How important was to your preparations to have the Athlete Career and Education Program (ACE) help secure a job opportunity while training?
This was huge! Originally, ACE connected me to GE through Adecco and then I was contracted directly to the GE Services team. This was a lifesaver for me! They not only helped me make ends meet, but allowed me to travel for competition when necessary. Companies that are willing to invest in US athletes, while letting them compete, are hard to find. Adecco and the Athlete Career and Education Program have made finding those companies possible for athletes like myself. I wouldn't be at the Games today if not for the ACE program.
What benefits do athletes receive by gaining real world job experience while you are still actively training?
Transitioning from sports to business is tricky, to say the least. This program trains and prepares us for that transition by giving us the skills we need to create a solid resume. All Team USA athletes have the core skills, like hard work and an eagerness to learn. The program helps us put it to good use. There's really no limit to the amount of success you can have with ACE. Companies get great employees. Everybody wins.
Personally, my time in the program helped develop and fine-tune my abilities to think outside the box. Now I approach problems with the ability to critically analyze the situation, form a plan of action, and execute to the best of my ability. It's been a blessing in business and competition.
Who do you look up to?
My parents. They both came from humble beginnings, worked to put themselves through college, and then created successful careers for themselves. They've always told us that if we are willing to work hard, we could accomplish whatever we wanted in life. I got my work ethic from them, and it's largely why I'm on the U.S. Olympic team today.
What type of mental preparation do you do to prepare yourself for Taekwondo matches?
I work closely with my Sports Psychologist, Karen Cogan. She's instrumental to my focus which me achieve my goals. With Karen, I've developed a stellar routine of visualization, positive self-talk, and focused intensity. Before a match I practice mindfulness meditation, the Wim Hoff breathing technique, and then I pray for safety and guidance. It's a winning combination. I won't fight without following my routine.
What are your long term career goals?
After the Olympics, I plan to go to law school. I put it off after getting my undergraduate degree in 2010. It's always been a goal of mine to practice litigation. I might take a few months off to relax after Rio, but becoming an attorney is my next step.
How can Taekwondo fans follow you in Rio?
I'm all over social media! On Instagram and Twitter, I'm @StephenLambdin, you can find my page by searching my name on Facebook, and my Snapchat is SteveLamb2016. I'll be streaming everything I can at the games, so be sure to check it out for the inside scoop.
What advice would you give junior athletes aspiring to make it to the world's largest stage?
If I could pass on one fact to the next generation is that you have to be responsible for your own success. Twenty years from now, if you didn't achieve your goals, the only person that will lose sleep over it is you. That means you have to be willing to do whatever it takes to get that gold medal. It means sleeping in airports, giving up your free time, having a positive attitude and a belief that you can do it. If I can do it, literally anyone can!
Describe the moment and feelings you had when you defeated 2008 U.S. Olympic silver medalist Mark Lopez to qualify as the Taekwondo heavyweight contender for the US in Rio?
It was one of the most surreal moments of my life. I grew up as a kid watching Mark Lopez's fights. To not only fight him, but to qualify for my first US Olympic team is one of the best moments in my career. You could say I was on cloud nine that day. I still am. It's a dream come true.
If you are looking for qualified employees to create your winning team, contact us today and don't forget to support Team USA at the Rio Summer Paralympic Games starting September 7th!