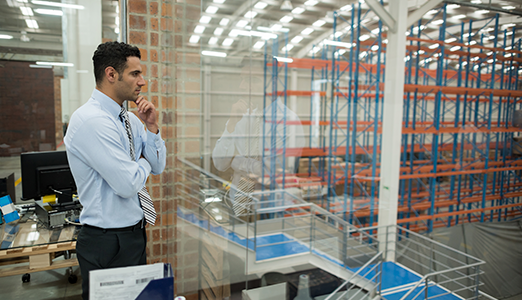 The spotlight on the US manufacturing industry was front-and-center in 2017. Manufacturing was at the forefront of President Trump's first year in office, with the President addressing the National Association of Manufacturers in September stating his tax plan would allow manufacturing companies "more production, more investment and more jobs."
Though the President's recent import tariffs, lack of foreign trade agreements talk, and 2019 budget that proposes to cut funding for the Manufacturing Extension Partnership have some experts worried, the past 12 months have been very healthy for blue-collar jobs in general. American factories have added jobs at the fastest pace since 2014, and with rumors swirling like General Motors moving it's South Korean plant back to the US, it's no wonder manufacturing companies are feeling optimistic after a rough 20 years.
From automation to apprenticeships, here are our top 3 predictions for manufacturing jobs in 2018.
1. Steady job growth.
January's Jobs Report reported an estimated 15,000 manufacturing job gains for the first month of 2018, making job gains in manufacturing average 186,000 from January 2017 to January 2018.
More than 6 million manufacturing jobs were lost between 2000 and 2010, with the low cost of producing goods overseas combined with the economic recession leading to this low. Recovery and job gains began in the years following, and then plummeted again in 2016 with 16,000 jobs lost.
2017's gains were no small fete, with experts stating multiple factors have contributed to the manufacturing comeback. Perhaps the most notable is the weaker US dollar, which makes US exports more attractive to foreign buyers, and drives demand overseas – and thus jobs – for the manufacturing industry. Demand is also strong in the US because unemployment is so low – more Americans are holding jobs than they have since pre-recession times, driving stateside spending.
If economic conditions stay their current course in 2018, expect to see manufacturing jobs in line with 2017's gains – if not slightly higher.
2. Increased use of automation.
Though manufacturing job growth should continue through 2018, The Bureau of Labor Statistics' has a different outlook come the year 2026. In their 2016 – 2026 Career Outlook Report, the BLS predicts manufacturing will loose 700,000 jobs by 2026, citing international competition and the adoption of new productivity-enhancing technologies as the reason.
Bloomberg has the exact opposite sentiment. The media company examined manufacturing inventories across various sectors, from automobiles, to appliances for the strong housing market, and found they are currently not able to keep up with demand, creating the need for continued manufacturing job growth.
While international competition continuously ebbs and flows, as does the US's stance in the innovation and efficiencies game, companies do have a chance to stay ahead of the technology curve by addressing training for automation technology in their development plans now.
Manufacturing has long been considered a victim of automation. While it's true fewer manufacturing jobs are on an assembly line – and instead are running computers or machines – companies can prepare their workforces for what's ultimately unavoidable. The factory jobs of the future look nothing like the factory jobs of the past, and 2018 will be another year of manufacturing companies automating their large-scale processes and using the data from this to drive efficiencies.
3. Investment in alternative education
Searching for new workers already trained in automation technology would be unwise given the tight labor market, and the fact that these skills are only as old as the technology itself is. Manufacturing companies will instead invest in re-skilling and retraining their current workforces in 2018.
The skills surrounding the process of production – both execution and management – can be easily applied to new production technology with proper training and up-skilling. Manufacturing workers will also need to take the initiative to learn new skills in 2018, in preparation for the continued rise of automation, if they want to remain relevant and needed in their fields.
A related prediction for manufacturing for 2018? Increased apprenticeship opportunities. States like Kentucky and Ohio have already seen tremendous success from implementing apprenticeship opportunities with manufacturing companies in their areas, and President Trump's executive order to double funding for apprenticeships in 2017 seems to have put work-based learning on the map for major US manufacturing companies.
"Vocational and technical skills represent one of the United States' greatest competitive disadvantages," wrote Adecco USA President, Joyce Russell, in her recent piece for The Business Journals. "Apprenticeships fell out of fashion in the United States when educators and parents began to place a greater emphasis on the traditional four-year degree, but they're making a comeback as more companies, educators, policy makers and non-profit groups come together to make them more mainstream."
To stay up to date with the manufacturing industry – and other major US industries – visit our Job Market Update for monthly reports on the state of the US workforce and the industries that drive it's growth.
Sources:
• IDC: https://www.idc.com/getdoc.jsp?containerId=US42126117
• The New York Times: https://www.nytimes.com/2018/01/23/opinion/trumps-tariffs-manufacturing-jobs.html
• The Wall Street Journal: https://www.wsj.com/articles/trumps-budget-cuts-funding-for-manufacturing-program-1518703201
• CNN Money: http://money.cnn.com/2017/12/04/news/economy/manufacturing-jobs-trump-2017/index.html
• MSNBC: http://www.msnbc.com/rachel-maddow-show/did-trump-make-major-gm-manufacturing-news
• CNBC: https://www.cnbc.com/2017/09/29/donald-trump-addresses-national-association-of-manufacturers.html